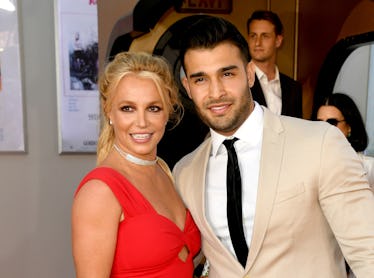 Britney Spears & Sam Asghari's Body Language Is So Heart-Warming
Kevin Winter/Getty Images Entertainment/Getty Images
After three years of keeping their relationship relatively low-key, Britney Spears and Sam Asghari's body language at the Once Upon a Time in Hollywood premiere on July 22 speaks volumes about their love connection. For those of you who haven't been fully keeping up with Spears, her appearance at the premiere marks the first time she and Asghari attend a red carpet together. And, according to Traci Brown, body language expert and author of Persuasion Point, they freaking crushed it. "Overall they look more connected than some celebs we've seen on the red carpet," Brown says after taking a look at their pictures.
Before we get into their on point body language at the premiere, let's talk about Spears and Asghari's relationship. According to Us Weekly, the two began dating back in 2016 when they met on the set of her "Slumber Party" music video. In the video, Asghari (a dancer) played Spears' love interest. Eventually, the fictional story line turned into reality, and they began dating IRL. They finally became Instagram official on New Year's Day 2017 when Spears posted a cute picture of them cuddling up at dinner.
Fast forward three years, and now they're hitting red carpet movie premieres together. "Britney and Sam were really looking forward to their first premiere together," a source reportedly told Us Weekly. "She was super excited to see the movie because she is a huge Brad Pitt fan and has had the biggest crush on him since she was a little girl." Apparently, their excitement for the big night translated to their body language, because the two were looking very happy and in love all night long.
Don't believe me? Check out their pictures for yourself, along with Brown's analyses of their body language.