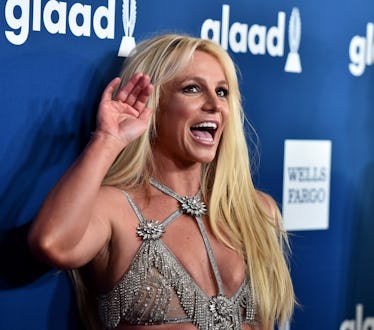 Britney Spears Shared The Best Workout Advice On Instagram & PLEASE "Gimme More," Girl
Alberto E. Rodriguez/Getty Images Entertainment/Getty Images
Have you ever caught yourself signing up for the same exact workout class every single week and low-key felt like you were developing a subtle bond with the instructor because of how much you're there? Same, girl. And while it's definitely great to find a workout that you're head over heels about, after a while, it can get a bit stagnant doing the same thing day in and day out for weeks, or even months on end. That's why Britney Spears' Instagram about working out is so damn relatable for anyone who's found themselves in the depths of a workout rut.
On Tuesday, the 36-year-old singer posted a video on Instagram in which she danced her heart out with her partner-in-crime, Mikey Pesante, to a new routine. In the caption, Spears wrote, "It always amazes me how different your body looks and feels when learning new moves and creating your own routines! Doing the same things while working out can get pretty stagnant, which is why I love dancing!"
Clearly, dancing is one of Spears' favorite ways to work out, but a quick look at some of her past Instagram posts proves she loves trying new things and switching up her routine on a regular basis.
"I love cardio and sweating, but over doing anything just isn't good," Spears wrote on Instagram back in January. So, when she got bored of treadmill time and bodyweight circuits, she returned to her love of dancing. Too much of even a good thing can certainly be toxic, amirite? If only I wasn't cursed with two left feet and the appearance of a flailing platypus whenever I try to dance, otherwise I would love to bust out some sweet moves like my girl Britney.
When you think about how hectic her schedule must be, you realize Spears truly does it all. She's currently in the thick of her Piece of Me world tour, not to mention she's a mother of two young children. Despite all of that, though, the "Gimme More" singer never allows herself to get bored with her workouts. Seriously, if you keep digging back through her Instagram, you'll see she's even dabbled in gymnastics, and the girl's kind of a pro when it comes to backflips.
Real talk, though: It's so important to change up your workout schedule from time to time like Spears does. While there's no literal timeline you should be following in terms of changing up your routine, there are some signs you can be aware of that'll let you know it's time for something new, such as sluggishness, fatigue, lack of motivation, or even longer post-workout recovery times.
Of course, another big sign that it's time to switch things up is, well, pure boredom with whatever it is you're doing.
The good news is, mixing things up in your workout routine doesn't have to be complicated at all, and there's really no "right" or "wrong" way to do it. For instance, you could try to increase the intensity of your sweat sessions, book a brand new workout class, part ways with cardio machines for a little while, or target different body parts and muscles than you normally would.
On the other hand, maybe you've been going a little too hard with your fitness regimen lately, and your body could use some extra rest days. Even our girl Britney knows when to take a break or a step back from something that doesn't feel right for her anymore. So uh, Brit, how can I go about hiring you as my personal trainer?