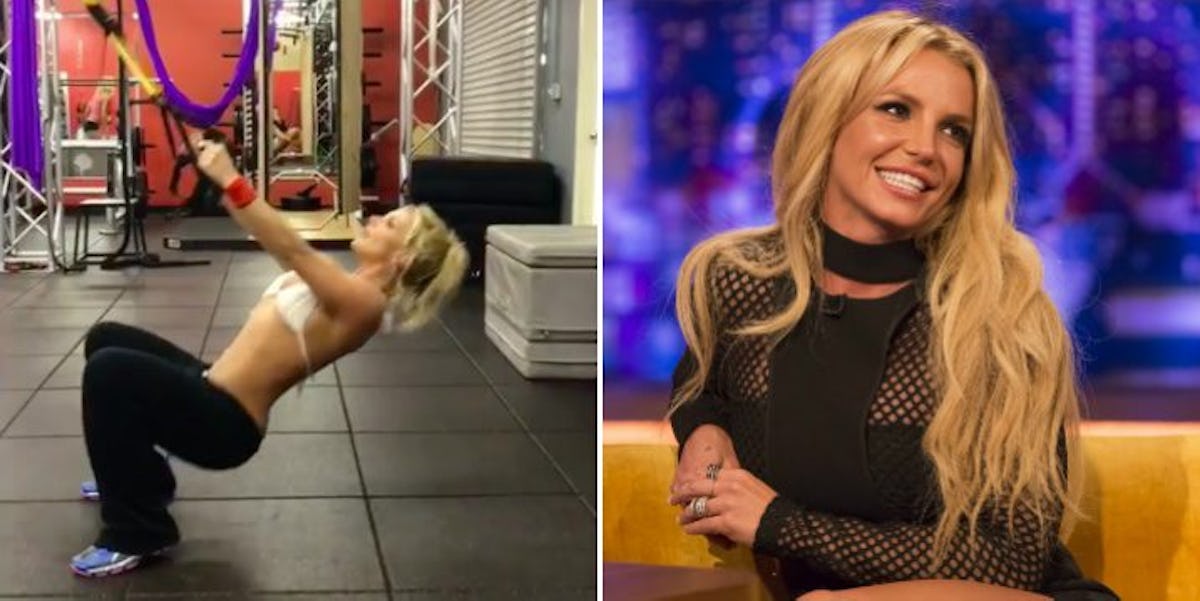 New Video Shows Britney Spears Working Out In A Bikini Top, No One Can Relate
Instagram/REX/Shutterstock
Thanks to a new video posted on her Instagram, we now know Britney Spears works out in a bikini top.
I know this is hard to believe, but Spears and I have very little in common, and this just makes it even more obvious.
I, for one, never work out. I also wear a trikini, which is like a bikini with a top and bottom, but it also features a long burlap sack that I use to cover my mutations. I'm not a girl... not yet a hobgoblin...
The 35-year-old singer posted her workout video with her personal trainer on Tuesday night.
She wrote,
Training keeps me motivated and inspired... but I'd rather be dancing.
And I would rather be eating an entire sleeve of Oreos, but here we are.
Honestly though, you have to hand it to Britney. It takes a lot of guts to post a workout video on the internet, and she's done it a few times.
If you ever saw me do ab exercises like this, then you would see a grown woman cry.
But Britney doesn't spend every moment in the gym. After all, she's too busy performing and raising her kids to dedicate her entire day to lifting weights and running on treadmills.
She told Women's Health,
I like my workouts to be effective in a short amount of time. I start with 20 minutes of intense cardio -- usually running -- move on to light free weights, body-weight exercises such as push-ups, squats and sit-ups, then finish it off with a stretch.
It obviously pays off.
Meanwhile, the rest of us are looking at our bodies like...
Spears must maintain her body not just for the creepy peepers like us, but to keep up with her own schedule.
On top of her Las Vegas residency, which has run on and off since 2013, Spears announced she will perform abroad for the first time since 2011.
She is expected to perform in Israel, Japan and the Philippines, with more locations and dates to be announced.
Citations: Britney Spears Takes Fans Inside Her Intense Workout Routine: 'But I'd Rather Be Dancing' (ET Online)