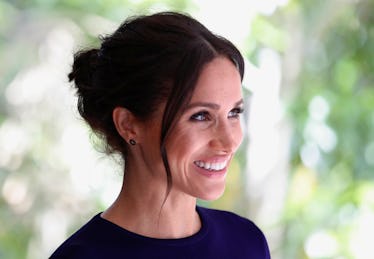 Meghan Markle Beat Out This Prince In Britain's' Shocking Ranking Of The Favorite Royals
Pool/Getty Images Entertainment/Getty Images
In the United States, most people have a very favorable view of the British royal family. And for many, Meghan Markle is their new favorite royal. Not only is she American by birth, but she's basically lived out a fairy tale romance with one of the world's most desired princes. So, it might come as a surprise to many Americans that the British have a distinctly different view of the royal family and of Duchess Meghan. In a recent poll from YouGov, Brits weighed in on how they feel about the royal family. And Britain's favorite royal rankings reveal that Meghan doesn't even make the top five!
YouGov describes itself as a polling site that "measures the popularity and fame of anything and everything, based on millions of responses from the British public." And what's more popular right now than the royal family? I mean, they're making so many headlines lately, and all the exciting news (weddings and babies galore!) coming from the family has to have an impact on the public to some degree.
But the way Brits have ranked members of the royal family may surprise you. As I mentioned, Meghan didn't even make the top five on a list of 15 family members total. So, who came in first place? Prince Harry, of course! He was followed by Queen Elizabeth, Prince William, Kate Middleton, Prince Philip, and then his wife, Meghan.
Despite her rather low ranking, Meghan did outrank a very important member of the royal family: Prince Charles, who is the heir to the throne. So, that's a very interesting twist on things, isn't it?
In any case, here's a look at the top 10 royal family members according to YouGov's rankings:
Prince Harry, 77 percent
Queen Elizabeth, 74 percent
Prince William, 73 percent
Kate Middleton, 64 percent
Prince Philip, 56 percent
Meghan Markle, 55 percent
Prince Charles, 48 percent
Princess Anne, 47 percent
Zara Phillips, 43 percent
Camilla, Duchess of Cornwall 29 percent
Now, you're probably looking at this top 10 and wondering where people like Princess Eugenie and Princess Beatrice are. Well, those two ranked far lower than anyone might have expected. Beatrice came in at No. 13 with 25 percent giving her a thumbs up, while Eugenie was second to last at No. 14 with just 24 percent approval rate from the Brits. So, even though the world made a huge deal about Eugenie's wedding to Jack Brooksbank, she isn't as popular with the British public as people might have thought.
And all of that definitely shows just how different Americans view the royal family. There's one thing that Brits and Americans can agree on, though: Prince Harry is amazing! He's clearly the most-loved royal on both sides of the Atlantic and thanks to his humility and humanitarianism, it's easy to see why.
With any luck, Meghan's popularity with the Brits will rise as she gets more and more accustomed to life as a royal. Nevermind the fact that she's due to give birth to a little royal of her own in the spring of 2019, so that should boost her popularity a little bit, right?
In the end, though, royal popularity isn't exactly what matters most. I think the royals are probably more concerned with doing good in the world and they seem to be doing just that!