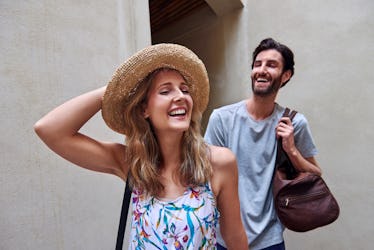 7 Thoughts That Go Through Your Mind When Bringing Bae On Family Vacation
Legendary memories are made on family vacation. Your fam is truly one of a kind, and you might have gotten into all sorts of mischief with your siblings when you headed to the shore growing up. But your family doesn't expect you to remain a kid forever, so they might not be too surprised when you drop the idea of bringing your partner on family vacation.
You've thought long and hard about the idea. You love your family, but they're just that — yours. Among all of the quirkiness and ridiculousness, they're your fam, and you love them. Since your partner is just starting to get introduced to them, they may not comprehend the dynamics of your family from the get-go.
You'll want everyone to enjoy the vacation, and you'll also want to show your family this person who is genuinely making you happy. Your family might be a tad unpredictable at times, which is why all of the iconic family stories stem from everyone being together. All you want is smooth sailing, even if you've brought a plus one. It's a vacation, so wanting utter relaxation is understandable — and it might be one of the only times during the year you and your whole family get together. Before you're content on the sand with bae and the crew, you're going to toss around most if not all of these thoughts.