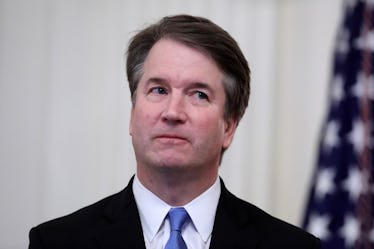 If You're Thinking Of Dressing Up As Brett Kavanaugh For Halloween, Don't
Chip Somodevilla/Getty Images News/Getty Images
I'm just going to say it. Halloween is without a doubt my favorite time of the year. There's nothing more exciting than thinking of an incredible costume and seeing it come to life, but unfortunately these ensembles can take a controversial turn. So, for those who think Brett Kavanaugh Halloween costumes are a good idea, spoiler: they're not.
Brett Kavanaugh's Supreme Court confirmation has been one of the most heated topic of conversation, and so there's a possibility that some people may see the recently appointed Supreme Court Justice as the perfect costume. Heads up, it's not. Dressing up as Kavanaugh makes light of the serious sexual assault allegations against him, which he denies, and also belittles sexual assault survivors' experiences.
Halloween is the perfect time to make a pointed statement, but this year let's also make it a point to avoid tasteless and inappropriate costumes. In 2016 we saw a bunch of awful Kim Kardashian Paris robbery Halloween costumes, and of course Donald Trump masks are still common Halloween picks in good ol' 2018. However, as this year continues to be filled with political tension, there's a good chance we'll be seeing equally controversial costumes related to some unforgettable political moments this year. I'm just saying, please leave the Kavanaugh ensembles in your closet.
There's a few reasons to avoid dressing up like the judge. For one, the controversy surrounding Kavanaugh and the three women who have come forward accusing him of sexual misconduct is a serious topic that's still sensitive for a lot of people. Kavanaugh has consistently denied all three women's allegations, and Elite Daily reached out to the White House for comment at the time, but did not hear back.
Unfortunately, it looks like there's already been talks of DIY-ing that costume for this year. Judging from Twitter, people are considering dressing up as Kavanaugh by incorporating a black robe and beer hat. One Twitter user asked whether Halloween costume makers would create a Kavanaugh mask for this upcoming season.
These jokes may seem harmless enough to some. For others, the impact of Kavanaugh's confirmation hearings is still troubling. Following Dr. Christine Blasey Ford's testimony against Kavanaugh, where she claimed he allegedly sexual assaulted her back in high school, many sexual assault survivors talked about feeling re-traumatized after hearing Ford's story and eventually watching Kavanaugh be confirmed despite it.
In September, Rape, Abuse & Incest National Network (RAINN) Press Secretary Sara McGovern spoke to Bustle via email about the impact of Kavanaugh's confirmation hearings on sexual assault survivors, in regards to flashbacks and Post Traumatic Stress Disorder (PTSD).
"Seeing sexual violence in the news can prompt negative reactions, from flashbacks and anxiety to feelings of sadness and irritability," McGovern told Bustle.
Since the Kavanaugh hearings, women and men have come together to stand with sexual assault survivors and remind them that they're not alone and their experiences deserve to be heard.
So, even if you're not sure where you stand on Kavanaugh himself, consider people's feelings this Halloween and leave the Kavanaugh jokes at home. You never know who it'll affect.