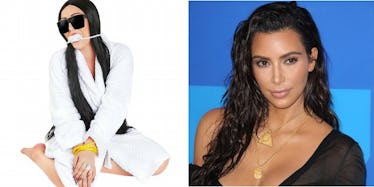 A Kim Kardashian Robbery Costume Exists And We've Lost Faith In Humanity
Costumeish/REX/Shutterstock
Who's ready to make Halloween 2016 the most distasteful yet!?
If you're not feeling the sexy Donald Trump costume, you can dive straight into this Kim Kardashian one instead.
It's called the "Parisian Heist Robbery Victim Costume" and that's pretty self-explanatory.
I guess it was only a matter of time.
The outfit appeared on Costumish and besides from the fact it's obviously in poor taste, it also looks completely impractical. There is no talking, cup-holding or apple bobbing for the person going as Kim this year.
The website description reads,
This Halloween it's all about the #Hallomeme and who better than America's goddess of all things glamorous "Parisian Heist Robbery Victim Costume?" She has devoted her life to promoting American decadence, youth, and hedonism but all that flashy living caught up with her one night in Paris when armed men bound her, stole her jewelry and her peace of mind. This Halloween have some fun with pop culture and dress just like the Queen of Social media with our sensational "Parisian Heist Robbery Victim Costume" costume.
Doesn't take your fancy? No worries, let's talk about that sexy Donald Trump outfit... because it exists whether you like it or not.
Let's be clear: There's nothing new about Trump outfits. That douchey mop is on sale all year round.
But Yandy.com has managed to come up with a disturbing twist on everyone's favorite presidential hopeful.
It's called the Donna T. Rumpshaker.
Why would you do this to me?
This little number is described like this,
You'll be "Making America Great!" this Halloween in this limited edition Yandy Donna T. Rumpshaker costume featuring a white sleeveless shirt with an attached collar, an attached red tie, a royal blue faux blazer and royal blue booty shorts. (Hat and wig sold separately.)
*dials 911 and reports assault on eyeballs*