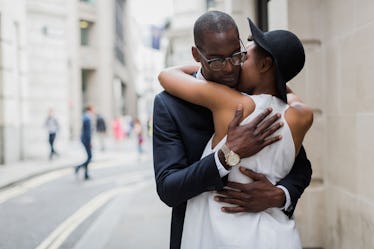 Here's How To Break Up With Someone In The Nicest Way Possible, So You Can Stay Friends
Brace yourself, here comes a super hot take. Are you ready? All right, here we go: Breaking up sucks. Yeah, that's right, I said it. I went there. (As if you didn't already know.) But in all seriousness, ending a relationship is rarely fun, whether you're the one being broken up with or the one calling it quits. Hurt feelings are pretty much inevitable, but that doesn't mean there isn't a way to go about breaking up in the nicest way possible. Like most life things, there's definitely a wrong way to do it and a few ways to make it slightly less painful — some that might even be pretty surprising.
To help walk us through the process of breaking up with someone as gently and kindly as possible, I reached out to breakup expert Elle Huerta, CEO and founder of the breakup app Mend. Huerta agrees that "breaking up with someone is usually uncomfortable, no matter how you go about it." However, she does assure Elite Daily that "there are a couple things you can keep in mind to have a more compassionate breakup." Because honestly, when has infusing a little more compassion into a situation ever been bad idea? Here's what Huerta says to keep in mind next time you need to end a relationship.