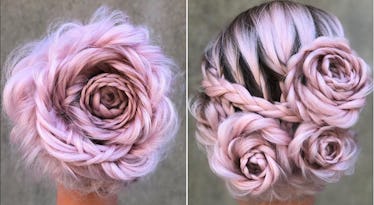 Everything's Coming Up Roses With These Stunning Floral-Inspired Braids
I live and work in New York City, and spring is seemingly nowhere on the freaking horizon. In fact, I'm pretty sure it's been winter here for at least 85 years. (But who's counting?) However, even though I'm still wrapped up in my winter coat and at least three other layers, these braided rose hairstyles making waves on Instagram have pretty much melted my frustrations away and made me feel like spring really is in full bloom. Come at me, Mother Nature. You can't kill these roses.
If you haven't perused the 'Gram in a while, go ahead and give it a good scroll, because you'll probably find some variation of these absolutely stunning rose creations — made just out of braided hair — drowning out everything else on your feed. These marvels are the brainchild and subsequent creation of Alison Valsamis, a hairstylist and colorist based in Fairfield, CT. Just one look at Valsamis' Instagram account, @braidedandblonde, shows a wealth of absolutely stunning hair creations, many involving intricate braided masterpieces.
Valsamis has garnered more than 14,000 Instagram followers and counting, thanks not only to her braided rose hair posts, but all of her detailed hairstyles. TBH, every single 'do looks like a sculpture that belongs in a museum.
As you can see in the photo above, the style starts with a tiny coil of tighter braids, gradually spiraling into looser, pulled apart braids. With festival season in full swing, trust me when I say that this sort of innovative braided style is a refreshing break from the usual French braid looks running rampant at most music festivals.
Hold up, though. I know what you're probably thinking. (Or at least, I know what I'm definitely thinking.) "How the actual eff am I supposed to recreate this look when I basically have two left hands with the dexterity of a goddamn cereal box?" Worry not, fam, because this look is not just aspirational. In fact, Valsamis heard your cries and posted a quick, easy-to-follow tutorial, which has since been watched more than 5,000 times on Instagram, so your own head can bloom with beauty.
As I mentioned earlier, Valsamis starts with a small, tight braid in the center of the back of the head, coiling it into a small spiral and securing it with a bobby pin. She then starts gradually making bigger, looser braids on either side of the spiral, pulling out some hair from the braid to give the illusion of flower petals. Finally, she continues wrapping and securing each braid around the inner spiral until the back of the head is covered with a gorgeous flower. In the caption of the tutorial, Valsamis also notes that she uses both standard braids and Dutch braids (i.e. pulling the hair strands under instead of over) "to create the 3 dimensional feel of a real flower."
I'll admit, even though I'm still skeptical of my own ability to hold chopsticks correctly, much less create a braided rose, I think even I could achieve half of this level of perfection with some practice and patience.
Let it be known, braided flowers aren't Valsamis' only forte. She posts a variety of elaborate creations that are sure to give you some solid inspo for your next festival hairstyle.
A Woven Wonder
This style truly kicks your regular low ponytail up 50 notches.
A Literal Flower Crown
While typical flower crowns aren't as popular anymore, something tells me this literal interpretation of the trend is worth a comeback.
A Mermaid Beauty
I thought I knew how to do a decent fishtail braid, but this style will make everyone want to be part of your world.
Rest assured, even if you're still bundled up in the cold like I am, these braided rose hairstyles will have everything coming up roses — including the weather, hopefully — in no time.