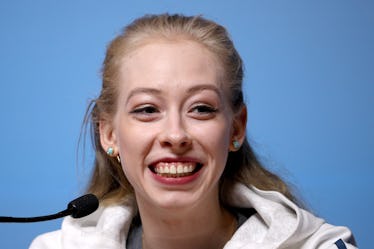 American Bradie Tennell Is Skating To The Perfect Song For These Olympics
Chris Graythen/Getty Images Sport/Getty Images
Music might not seem like a big deal for Olympic figure skating, but this year's ensemble shows an emergence of new influences in the sport. U.S. skater Bradie Tennell's short program song, which comes from a famous Korean film, is a case in point. The 2018 PyeongChang Winter Olympics represent Tennell's first time skating in the individual competition at the international event.
On Wednesday, Feb. 21 (Tuesday night in the U.S.), Tennell will be doing her short program skate to a song by Lee Dong-Jun from the soundtrack of South Korean film Taegukgi. The movie, a major hit in South Korea, tells the story of two brothers during the Korean War.
"One of my close friends used the music previously but was injured before she could compete with it," Tennell said of the song, per USA Today. "So she told me that if I wanted to use it this year, being the Olympics in Korea, I could. And knowing I loved the music, I said, 'Why not?'"
In her second appearance in this Olympic season, Tennell will be first on the ice representing America in the ladies' short program skate in PyeongChang on Wednesday, Feb. 21 (Tuesday night U.S. time), according to the Team USA site. A skater's order in the lineup is determined by a combination of factors, one of which is their international standing, per Team USA. Since the young Tennell doesn't have lots of world stage points racked up, she's going early in the night.
The Illinois native began skating at the age of two. 18 years later, at 20 years old, Tennell is one of three women representing the U.S. in ladies figure skating, alongside Karen Chen and Mirai Nagasu. And so far, the ladies' skate team has had a strong showing. Nagasu became the first American woman in history to land a triple axel at the Winter Olympics. (Before her, Tonya Harding was the only American woman to have landed the move, but that was at a National Championships.)
Tennell already had one solid performance on Olympic ice to start off. She helped Team USA clinch a third-place finish during her debut in the team skate competition on Sunday, Feb. 11.
NBC Commentator Tara Lipinski, herself a former Olympic figure skater, was clearly impressed with what was Tennell's first skate. "She has never been under this type of pressure, and that's her first skate?" she said, per The Washington Post. "This is a competitor."
With one bronze already under her belt from the team competition, Tennell is gearing up for two more big nights of skating in the individual competition. And fortunately, she will be skating to the same tune as last week's team event, at which she set a personal season record with a score of 68.94.
For the free skate, NBC reports, Tennell will be performing to "Cinderella" by Patrick Doyle. (She's apparently a huge fan of the movie.) According to SB Nation, Tennell will perform the free skate at 8 p.m. ET on Tuesday, Feb. 20 (Wednesday morning Korean time). Her performance will be followed by those of her teammates Karen Chen and Mirai Nagasu.
This year represents a shift in Olympic skating music. Until recently, skaters were prohibited from skating to music with lyrics; only ice dancers could do so. After a rule change by the International Skating Union (ISU) to allow lyrics, this is the first Olympics at which competitors can make use of it.
And Tennell's teammates are certainly taking advantage of this new freedom in song choice. Alexa and Chris Knierim, for example, chose "Come What May" from Moulin Rouge; Vincent Zhou chose "Chasing Cars" by Snow Patrol.
If Wednesday's performance is anything like her first one, we're in for a treat watching Tennell's short program.