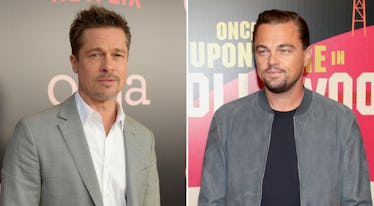 Brad Pitt & Leonardo DiCaprio Were Asked To Star In 'Brokeback Mountain,' But They Said No
Jason Kempin/Getty Images, Isaac Brekken/Getty Images
We almost got a movie where Brad Pitt and Leonardo DiCaprio fell in love with one another, if you can believe it. Director Gus Van Sant recently recalled the difficult casting process for the 2005 gay love story Brokeback Mountain (he was connected as director before the movie ultimately went to Ang Lee), and revealed that Brad Pitt and Leonardo DiCaprio said no to starring in Brokeback Mountain, along with a few other A-list actors.
Before Ang Lee signed on to direct Brokeback Mountain, director Gus Van Sant was working to adapt Annie Proulx's 1997 short story about two ranch-hands who develop an unexpected sexual and romantic relationship for the big screen. But Van Sant did not have an easy time finding actors to play the lead roles of Ennis Del Mar and Jack Twist, he revealed in a new interview with IndieWire. Van Sant said that although the original short story had a beautiful simplicity about it, the process of adapting it into a screenplay wound up transforming the simple love story into a larger, more sprawling drama.
That shift from a small indie drama to a big commercial romance meant that Gus Van Sant had to cast A-list actors, rather than casting unknown actors, which he now says he should have done. The problem was, none of the A-list actors Van Sant reached out to were interested in the roles:
Nobody wanted to do it. I was working on it, and I felt like we needed a really strong cast, like a famous cast. That wasn't working out. I asked the usual suspects: Leonardo DiCaprio, Brad Pitt, Matt Damon, Ryan Phillippe. They all said no.
Brokeback Mountain's producer and screenwriter, Diana Ossana, confirmed to IndieWire that Leonardo DiCaprio, Brad Pitt, Matt Damon, and Ryan Phillippe did indeed turn down lead roles in the movie "for various reasons."
Matt Damon has actually spoken publicly about his decision to turn down Brokeback Mountain before. In an interview with Entertainment Weekly a couple years after the movie premiered, Damon admitted he regretted not signing on to Brokeback Mountain. He revealed that at the time, Gus Van Sant had wanted Damon and Joaquin Phoenix to costar as Ennis and Jack, but Damon turned the part down due to the film's genre feeling to similar to other roles he was playing: "I was on my way to Italy to do The Talented Mr. Ripley and then All the Pretty Horses. And Gus wanted to do Brokeback right after. And I was like, 'Gus, I'm going to do a gay movie, then a cowboy movie. I can't follow it up with a gay-cowboy movie!'"
Now we know that Gus Van Sant was also rejected by Leonardo DiCaprio, Brad Pitt, and Ryan Phillippe. This difficulty in finding two big-named actors willing to take on a gay role led Van Sant to leave the project. But as we all know, Brokeback Mountain did get made after Ang Lee signed on and got Heath Ledger and Jake Gyllenhaal to play Ennis and Jack. The movie went on to become a massive success, scoring three Oscars and Oscar nominations for both Ledger and Gyllenhaal. I'm sure Brad Pitt and Leonardo DiCaprio were kicking themselves after they saw how successful that movie they turned down became.