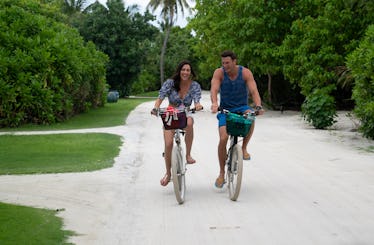 Blake's 'After The Final Rose' Interviews Are Honestly Hard To Watch
ABC
Blake Horstmann broke the nation's hearts when Bachelorette Becca Kufrin officially rejected him on the Season 14 finale in the Maldives. After pouring his heart out to her, Blake was sent home, and his reaction was heartbreaking. Things only grew worse in the cut to the live show, and Blake's After the Final Rose interviews are so hard to watch.
After Becca said goodbye to him and he kept tearfully repeating to himself that he had to deal with this alone, The Bachelorette turned to the show's live feed and showed a dejected Blake watching the moment with Chris Harrison. Kept away from Becca since her rejection of him, Blake has had nothing but his memories of their relationship to help him cope with heartache. Do you think she returned his box of mementos before he flew off the island?
Awkwardly sitting opposite Chris Harrison, who isn't as much of a savvy love guru as he thinks he is, Blake revealed that the only red flag in his relationship with Becca was seemingly that were no red flags. He said he would always have love for Becca and that who she became engaged to was ultimately her own choice. While filming the season, he and Becca had discussed going through the show's aftermath together, but after Becca turned him away, the thought of being alone again proved overwhelming for him, hence that idea becoming his mantra.
Blake confessed to falling blindsided about Becca's decision, but managed to put on a brave face when Becca greeted him onstage. Whose idea was it to have the runner-up talk to the woman who broke his heart immediately after the rejection aired?
Still, as difficult as it must have been, both Becca and Blake acted maturely with each other. Blake managed to make a friendly joke about her coming onstage with a hoodie, but admitted that her advice of watching the season for answers didn't exactly help him. As we saw throughout the season, Blake can be a bit of a nervous nelly, and that shone through in his After the Final Rose appearance. He asked her if she could tell when he wouldn't be the one for her, and Becca assured him that none of Blake's actions turned her off.
So, we all know that Becca is nice, but in times like these, she's almost too nice. We need to put Blake at ease!
Blake's tendency to overanalyze then grew even deeper when Becca told him that she had to sift through her interactions with both men and figure out which relationship would work best in the long run. When Blake seemed to be more in his head, Becca worried if such nerves would appear when the two faced serious decisions later in life. In true Minnesotan fashion, she then complimented him fiercely, saying that she never wanted him to question his worth.
In a move that may or may not have been Blake's attempts to outdo Jason's Bachelor audition, he essentially wished Becca the best, saying he felt lucky to have her as his Bachelorette. The two's similarities may have ultimately prevented them from being each other's person, but Blake admitted that his experience with Becca has made him open to love again.
He may need some more time to wallow and think things through, but Blake still managed to be quite the class act at After the Final Rose. If a Bachelor gig is in his future, we wish him the best!