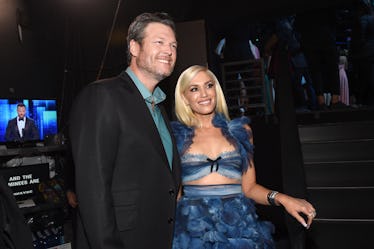 This Sweet Birthday Post From Blake Shelton To Gwen Stefani Reminds Us Love Is Real
Emma McIntyre/Getty Images Entertainment/Getty Images
Some combinations work well together — peanut butter and jelly, Soulcycle and Beyoncé, and pop stars dating country stars. Case in point: Gwen Stefani and Blake Shelton make one of the cutest couples in Hollywood. They are still apparently going strong because Blake Shelton's birthday tweet to Gwen Stefani was couple goals AF.
Shelton and Stefani confirmed their romance rumors in November 2015 after starring as judges together on NBC's The Voice. The two have been going strong for the past couple of years, and they don't mind showing a little affection and support on social media.
For example, Stefani tweeted for fans to check out Shelton's new single, "I'll Name The Dogs," on Oct. 3, and Shelton's Twitter photo is the cover of Stefani's latest holiday album, You Make It Feel Like Christmas, which comes out Oct. 6. I love to see that kind of support for each other's careers, but I like the mushy relationship stuff even more. To help celebrate Stefani turning 48 on Oct. 3, Shelton posted the sweetest tweet,
Happy Birthday @gwenstefani!!! Why don't you go ahead and NEVER break my heart!!!!
Stefani had an extremely heartfelt response. After retweeting, the singer wrote back,
@blakeshelton thanku for saving my life gx
Besides PDSMA (public displays of social media affection), Stefani and Shelton seem like they're together constantly. Shelton recently opened up to Entertainment Tonight about the experience of brining Stefani and her entire family to the opening of his restaurant, Ole Red, in Tishomingo, Oklahoma. He said,
It's been a lot of fun for me to be the one to get to expose them to this — out in the country. They love it so much, her entire family. And when I say her family, I mean all of them. I'm talking about the kids, the mom, the dad, the brother. There's times when we've had holiday gatherings, and I'm talking about 30-plus family members from her side, from my side.
Well, that sounds like a great time if you ask me. I'm sure it's a wild party if Shelton and Stefani are involved.
Both singers definitely have a great sense of humor. Stefani recently came clean on Late Night With Seth Meyers that she had no idea who Blake Shelton was before The Voice and it was so, so funny.
Keep in mind, Shelton is a platinum recording artist who has been making music for a very long time.
When Meyers mentioned that Stefani didn't have much knowledge of country music before she joined The Voice in 2014, she said,
I didn't even know that Blake Shelton existed in the world. I had no idea!
Hollaback girl say what? I mean, in 2001, Shelton's song "Austin" was the number one country song on the Billboard charts for five weeks. You didn't notice? Not even by accident?
She did go on to say that she is well-acquainted with Shelton's songs now. She gushed,
Trust me, I am like the biggest Blake Shelton fan ever now. I know all of his music.
Besides his music, Stefani just seems to like Shelton as an all-around good guy.
I love Blake. He's the most incredible guy. Everybody loves Blake, there's no way around it. He's just a sparkly, happy, amazing person.
Alright, we get it... you're happy and in love, stop rubbing it in. *Silently sobs.* According to Shelton's IMDB page, his birthday is June 18. This means we are going to have to wait a whole eight months for another gushy birthday Twitter conversation from the couple.
Actually, there's hope. We may be lucky and get a romantic anniversary post. Hmmm... here's to hoping. Gwen and Blake, you two are adorable and I wish you all the best.
Check out the entire Gen Why series and other videos on Facebook and the Bustle app across Apple TV, Roku, and Amazon Fire TV.