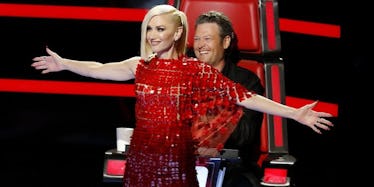 Gwen Stefani Hits On 'Voice' Contestant In Front Of Blake Shelton In Awkward Vid
NBC
Gwen Stefani is THIRSTY. A contestant on "The Voice" was unexpectedly swept up in a very public primetime love triangle on Tuesday night.
The incident happened during a "battle round" sing-off that was sooo hot, it led Stefani to question whether she actually wanted to be with Blake Shelton in the long run.
LADY BONER ALERT!!!
The man who got Gwen all hot and bothered is named Chris Blue, a Knoxville worship leader whose voice is soooo good, it is unholy.
After hearing Blue sing, a stunned Stefani commented,
Chris, you let yourself completely get absorbed into the music, almost as an out-of-body experience. I don't even know if I was listening to your voice because I was so mesmerized by your body.
If you're wondering what the performance was that led to the exchange, you can check it out here:
Yeeesh, I get it. I would break up a marriage if that voice made its way into my life. I'm not even dating Blake Shelton, but after I watched this video, I texted him that I just want to be friends. (He texted back "who is this?" by the way.)
If their relationship somehow survives this, Blake and Gwen are rumored to be getting married at some point soon, according to TMZ. The couple have reportedly lined up a famous wedding planner Jerri Woolworth.
When asked about this, Woolworth told TMZ, "No comment."
Whether they're getting married or not, the couple does seem pretty enamored with each other.
Stefani recently spoke about her relationship with Shelton while stopping by "Late Night With Seth Meyers."
During the interview, she told Meyers,
It's sooo unbelievable, now I'm going to try and really think hard about I'm going to talk about this. I love Blake, he is the most incredible guy. Everybody loves Blake and that's the thing, there is no way around it. He's just a sparkly, happy, amazing person.
That is, until Chris came into the picture...
Citations: Blake Shelton Feigns Jealousy After Gwen Stefani Gushes Over Contestant on 'The Voice' (US Magazine)