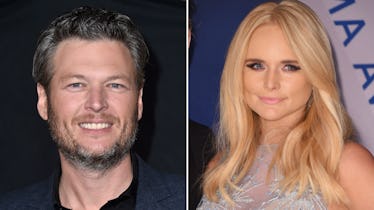 Blake Shelton May Be Throwing Shade At His Ex Miranda Lambert With This Tweet
Alberto E. Rodriguez/Getty Images Entertainment/Getty Images | Michael Loccisano/Getty Images Entertainment/Getty Images
Blake Shelton may be a sweet and down-home country boy, but that doesn't mean he can't throw a little shade every now and then. As so many of his fans already know, he does it all the time on The Voice. He's been known to do it in interviews — usually when he's paired with his fellow Voice judges. And now, he might possibly be taking his shady ways to Twitter… and directing them at ex-wife Miranda Lambert. At least, that's what fans are saying about a cryptic tweet Shelton posted recently. So, is Blake Shelton's tweet about karma actually about Lambert?
Well, let's take a look at the evidence.
According to People, Lambert recently moved on from a long-term relationship with Anderson East. And she moved on rather quickly, it seems. The two split in early April 2018 and, on April 24, People reported that Lambert was seeing fellow singer Evan Felker.
On April 25, just a day after news of the new couple broke, Shelton took to Twitter to tweet about karma:
Been taking the high road for a long time.. I almost gave up. But I can finally see something on the horizon up there!! Wait!! Could it be?! Yep!! It's karma!!
Here's a glimpse of the tweet itself:
What could he possibly mean by that?
According to Us Weekly, Lambert and Felker began spending more time with each other while still on the road in early 2018. Lambert was still reportedly seeing East during that time. Felker's wife of two years, Staci Nelson, reportedly filed for divorce in February 2018.
Elite Daily reached out to both Shelton's and Lambert's teams for comment on these reports, but has not heard back at the time of this publication.
This wouldn't be the first time Lambert has been accused of questionable relationship etiquette. Back in 2015 when Shelton and Lambert divorced, there were rumors that Lambert had cheated on him. The cheating allegedly occurred with singer Chris Young, but Young vehemently denied those rumors.
So, all that said — could Shelton's tweet be directed at the dismantling of Lambert's relationship, as well as Felker's marriage? Possibly. Why, though?
Whatever Shelton's intent, the situation is sad all around. Things like this definitely take their toll on people, Lambert included.
As reported by Knox News in March 2018, Lambert hinted at her breakup with East while speaking to an audience:
I make it my mission every single time I step on the stage that no matter what, no matter where I am, I want to make you feel everything you could possibly feel. I want you to feel sad, mad, happy and nostalgic and really pissed sometimes. That's my favorite. And part of feelings is also heartbreak, unfortunately.
Hopefully, Lambert, East, Felker, and Felker's wife can all find happiness in their futures.
Shelton, on the other hand, is reportedly very happy in his life right now with singer Gwen Stefani. The two have been dating since 2016 when they really hit it off on the set of The Voice.
In April 2018, Stefani flirted the idea of marriage during an appearance on The Ellen Show:
You know what? I love weddings, the kids love him. I think about it all the time.
But don't ring in the wedding bells yet. Shelton doesn't seem to be feeling any pressure to put a ring on it. He even poked a little fun at the marriage rumors that have been floating around in an interview with EXTRA:
Well, I don't know if you guys read the magazines, but we've been married for a while. It's been on the cover of all the credible magazines!
Guess that settles it, then!