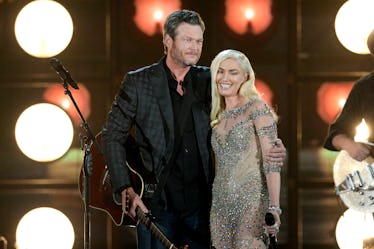 Blake Shelton Just Admitted He Thought His Relationship With Gwen Stefani Was A "Rebound"
Kevin Winter/Getty Images Entertainment/Getty Images
When the relationship between Blake Shelton and Gwen Stefani first came to light, so many people thought it wasn't going to last. Well, Shelton himself didn't think so either. The famed country singer recently revealed that he, too, had his doubts about whether what he had with Stefani was the real deal. Blake Shelton's comments about his relationship with Gwen Stefani come as a complete surprise, especially since the two seemed so utterly committed to each other from the very beginning. I guess not everything is always as it seems, but at least they stuck it out for the long haul.
In any case, Shelton revealed his initial reservations about the relationship while appearing on Sunday Today With Willie Geist. Apparently, Shelton thought the whirlwind romance was a rebound situation for both of them since they were going through divorces at the same time. Here's what he said about dating Stefani:
I think if Gwen and I were being honest right now talking about this, I think in the back of our minds, we both kind of thought this is a rebound deal because we're both coming out of a pretty low spot in our lives and we're kind of clinging to each other to get through this.
By all accounts, Shelton and Stefani were smitten from the word go and they both managed to pull themselves back up out of their pain by loving each other. Now, the relationship is going on three years and Shelton is still over the moon about it:
But now here we are, going on three years later, and every day that goes by just feels like a stronger bond between the two of us, and it constantly feels like it's going to the next level. That's the way I think either one of us would probably describe it if she was sitting here.
In the interview with Sunday Today With Willie Geist, Shelton also talked about how difficult his divorce from Miranda Lambert was for him. According to Shelton, meeting and falling in love with Stefani really helped him get through his darkest stage:
When I was going through my divorce and just, you know, hit rock bottom just like anybody does when they go through something that devastating, it's a miracle that I met somebody that was going through the same exact thing that I was at the same exact moment in time.
What a sweet sentiment. And you know what? Stefani seems to feel the exact same way!
Back in May 2016, Stefani did an interview with Haute Living and spoke about how helpful meeting Shelton was in the wake of her divorce from ex-husband Gavin Rossdale:
When you're going through a really tough time, there are people that come in your life, like a friend that can help you get through things, and he's definitely one of those people. That's it.
She also raved about her boyfriend to People in back 2015:
He's such a fun, funny guy. He just seems like such a good person. I love being around him.
More recently, in an appearance on The Ellen Show, Stefani discussed the possibility of marrying Shelton. She even said her kids love him enough for her to consider marriage:
You know what? I love weddings. The kids love him, we love him, everybody loves him.
So, those two really do care for each other and seem to have cultivated a genuinely beautiful relationship. I don't know about you, but it seems to me that Shelton and Stefani might be headed for marriage sometime in the future. And to think they both thought it was a rebound relationship! Last laugh's on them, I guess!