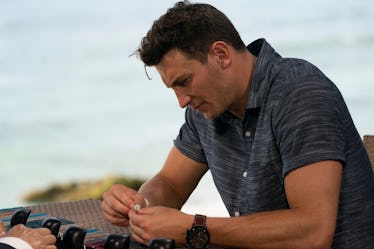 Bachelorette' Runner-Up Blake Has Something To Say About Garrett's Instagram Controversy
ABC/Paul Hebert
Now that Season 14 has officially come to a close, Bachelorette runner-up Blake Horstmann is openly discussing the talked-about subject surrounding his former competitor and winning castmate Garrett Yrigoyen. Blake responded to Garrett's controversial Instagram likes while speaking to reporters on Tuesday, Aug. 7. According to Us Weekly, Blake said:
That's not the Garrett I knew in the house. I'm sure he will learn from all of this and I trust Becca, I trust her decision and I trust her character.
Garrett, who got engaged to leading lady Becca Kufrin on Monday's finale, made headlines when it was discovered he had liked a series of offensive social media posts that mocked undocumented immigrants, trans people, and feminists. One meme in particular referenced the Parkland, Florida school shooting, insinuating that Marjorie Stoneman Douglas High School student David Hogg was a crisis actor.
Blake shared his own experience enduring the emotional trauma of a school shooting while on The Bachelorette. During Hometowns week when he took Becca to back to his alma mater Platte Canyon High School in Colorado, he went into detail about the tragic event that took place during his senior year and how it affected him.
"I have not had the chance to talk to him, no, we have not communicated, since, you know, early in the journey. … Maybe there will be a time in the future, but as of now, no. I'll let them have their moment," Blake additionally noted regarding Garrett's Instagram scandal Tuesday.
Garrett apologized for his actions via a new Instagram account in May when the news broke, writing:
I am sorry to those who I offended, and I also take full responsibility for my 'likes' on Instagram that were hurtful and offensive. garrett_yrigs12 was my former Instagram handle and I decided to take it down and start fresh because I have learned an extremely valuable lesson and am taking steps to grow, become more educated, and be a better version of myself. I am not perfect, and I will never be anywhere close, but now I will always be more informed and aware of what I am and supporting, not just on Instagram, but in life.
He went on to discuss the topic on "After the Final Rose" alongside his new wife-to-be Becca. The couple explained that they were working past the issue and learning from it as a result. Garrett also apologized to those he had hurt again.
"He didn't mean it. But I just want to move forward, to learn and to grow and continue to educate ourselves," Becca explained. "That's all that you can ask for in another person is that somebody who recognizes if they make a mistake and do something wrong and to want to learn and grow from it, and that's what he showed me."
Blake's Bachelorette journey came to a heartbreaking end when Becca ultimately chose to be with Garrett. His tearful exit wasn't easy to watch, but the 28-year-old sales rep apparently has no regrets about the whole thing.
"I will never apologize for how hard I love and I will love again just as hard...," he concluded a lengthy Instagram post following the finale that thanked fans for their support and expressed nothing but gratitude for the show's impact.
That's the spirit, Blake. Bachelor Nation is rooting for you.