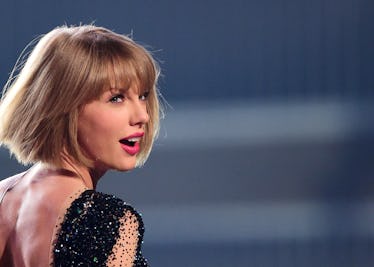 Fans Think Blake Lively's Daughter Says "Gorgeous" On Taylor's New Song & It's Wild
ROBYN BECK/AFP/Getty Images
Taylor Swift's new song "Gorgeous" is here and oh man, the theories. So. Many. Theories. Who is it about? And who is the baby's voice on the track? Swift fans dug in and they believe it's Blake Lively's daughter who says "Gorgeous" on Swift's new song.
Is there any truth to it though?
The initial buzz was that it was a young Taylor herself who spoke the "Gorgeous" word, but that was shot down by some of the lucky fans who attended her Reputation secret sessions listening parties.
Back to the drawing board, as they say, and people were quick to see what other babies might be in Swift's life. How about her godson, Leo, Jaime King's son? Total possibility.
Then some switched gears and believed it was totally Lively and Ryan Reynolds' daughter, James. OK, total game changer.
A Lively fan account tweeted: ""It is rumoured that the child's voice at the start of Taylor's Swift's new song, #Gorgeous is Blake and Ryan's daughter James." OK, so that doesn't confirm anything, but is definitely a contender.
Elite Daily reached out to reps for both Lively and Swift on the report, but neither responded to a request for comment at the time of publication.
Keeping the mystery well and alive on Tumblr, a fan asked who the mystery baby is, and Swift herself responded, but only to show that she's not giving up anything, commenting instead that "300 people know."
And you just know those 300 secret sessions fans aren't going to crack.
With theories swirling about Lively and Reynold's daughter's voice on the song, the tweets rolled in, including one fan who noted: "So it's confirmed the baby's voice at the beginning of ‪#Gorgeous is Blake and Ryan baby girl James."
Just to be clear, I haven't seen an absolute confirmation yet. And believe me, I've been looking.
One fan who was at the secret sessions tweeted yesterday: "GUYS I'm not sure if Taylor tells the story behind the baby voice in that Gorgeous clip you won't think it is creepy haha!"
Another secret session attendee tweeted: "I can't wait for ‪#Gorgeous to be released tomorrow. It's a masterpiece even by ‪@taylorswift13's standards. & I'm not saying who the baby is!"
That little bit of insider info had people wanting to know more... as another fan responded, "Obviously it's baby Taylor!!!!!" and she answered, "It's not."
Another fan who was there tweeted: "The story behind Gorgeous makes me want to cry cause I love it SO MUCH, I'm so happy."
Naturally, she had no followup information because, you know, sworn to secrecy. Ugh.
Once "Gorgeous" dropped, she noted, "NOW THAT I'VE HEARD GORGEOUS AGAIN (AND AGAIN) THE SONG REMINDS ME TAYLOR'S FACIAL EXPRESSIONS." Hmmm. No clues on that baby voice, however.
She did, however, shoot down one ridiculous rumor: "It's not Taylor's child." OK, that much we already knew, but thanks!
OK, will someone end this madness and just spill the beans already? When a Twitter discussion over Swift's response on Tumblr kicked off, people felt excluded who weren't in on the secret sessions. One fan was the voice of reason: "It's probably going to be in the album liner notes, chill people."
Another fan tweeted this cryptic clue, which only drummed up about a thousand more questions: "Its not who you would expect it to be." Huh? C'mon.
Another fan tweeted confidently: "It's James Reynolds."
Who do you think the baby's voice on "Gorgeous" is?
Check out the entire Gen Why series and other videos on Facebook and the Bustle app across Apple TV, Roku, and Amazon Fire TV.