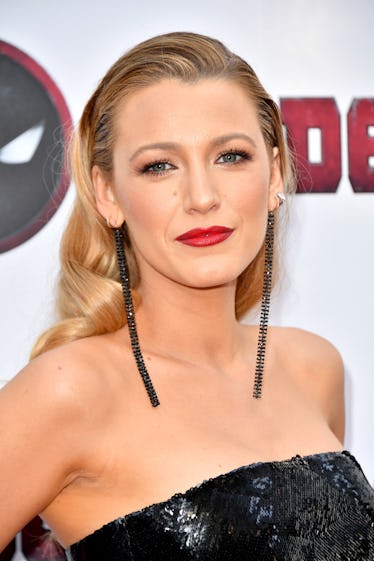 Blake Lively's Awkward Misunderstanding With A Reporter Over Her Boobs Will Make You LOL
Michael Loccisano/Getty Images Entertainment/Getty Images
Blake Lively is a goddess of a human, and must be protected at all costs. She's talented and brilliant, and her marriage to Ryan Reynolds gives us all hope that love is still alive and well. But our girl Blake is no stranger to a simple misunderstanding — just like the rest of us regular humans fall victim to on a regular basis. And during the premiere for her new movie, A Simple Favor, Blake Lively's clash with a reporter over her boobs was actually just a classic mixup of words (and somehow involved her and her Reynolds' iconic Twitter antics), and it makes me love her even more than I already do.
While visiting The Tonight Show with Jimmy Fallon, Lively recounted a tale about the moment when she thought a reporter was complimenting her "tits," which is seriously not OK at all. But you'll never believe what he was really complimenting her on.
At the premiere of A Simple Favor, Lively wore a men's tux and looked like pure fire. But the problem was that the shirt that she wore underneath the tux was see-through, which she didn't realize until she put it on, AKA every woman's worst nightmare.
She hilariously recalls that she tried to speak to her hotel's mechanical department and asked them for some kind of duct tape to lock those girls in, but they only had packing type, which meant that she'd be walking around with "crunchy-sounding ta-ta's." God bless Blake Lively, amirite?
Obviously, she ended up looking pretty stellar, but the problem was that now she knew of her accidental fashion statement, it was all she could think about. "You know when you're freaking out about something and you know that's all anyone else is seeing?" she told Fallon. "You know, you're aware of it, so everything everyone says is, like, pointing out this thing you're paranoid about, that no one's really noticing."
You mean me, every day?
So when a male reporter shouted something to her, it sounded like he said, "your tits are amazing," which made Lively do a double take.
"I'm like, wait excuse me? And he's like, 'your tits are amazing!' And I'm like are we saying that? Is this...have you been on Google in the past year? Like, this is not okay," she told Fallon.
But before she started going off on the male reporter, he yelled, "And your husband's tweets are even better!"
Lively said, "I'm like, 'Oh, tweets! Twitter! My tweets are amazing! Tweets!' It was like, oh my gosh. I was so relieved it was about my mind, and then after I was like, 'But how are my… How are they?'" referencing the fact that now, she sort of wanted to know how her boobs looked.
I'm just going to throw it out there: Blake Lively's tweets and her two ladies are equally amazing.
Get it, girl!
You can watch Lively recount the epic misunderstanding below. My personal favorite part is watching Jimmy Fallon try to delicately joke about the interaction before realizing where the story was going:
I just want to thank Blake Lively for being so open and honest about her red carpet interactions. It makes me feel like she's somehow a super, super normal person (albeit a really stunningly beautiful one). Thanks for giving us mere mortals hope, Blake!