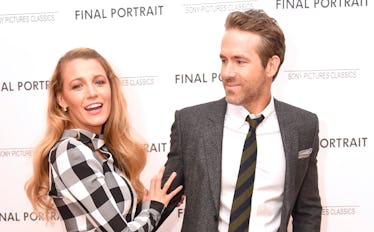 Blake Lively Trolled Ryan Reynolds In The Most Supportive Way, Which Is Why We Love Her
Michael Loccisano/Getty Images Entertainment/Getty Images
There are a few things in life that never get old. Ice cream on a Sunday. A morning walk on the first crisp autumn day of the year. Blake Lively and Ryan Reynolds trolling each other on social media. Ya know, the simple pleasures in life. Reynolds and Lively just celebrated their six-year marriage anniversary on Sunday, Sept. 9, and their continued banter shows they're going strong in the best way they know how — by making fun of each other. Most recently, Blake Lively trolled Ryan Reynolds for his Aviation Gin whiskey campaign plastered on the side of a massive truck. Even though her words are technically kind and supportive, you can tell she's poking fun at her award-winning hubby, anyway.
That's the magic of their relationship. Lively and Reynolds can be mean and sweet at the same time. Bless them.
On Friday, Sept. 7, Reynolds shared a picture of his Aviation Gin campaign. It includes a giant photo of the star himself lounging in a chair while giving the camera "smizing" eyes. And, oh yeah. He's massive. The ad is branded on the side of a huge truck making Reynold's multiple times larger than he is in real life. He captioned the photo, "Turns out the driver really doesn't carry cash. But he DOES carry pepper spray... and a shitload of @aviationgin #Aviationowner"
Look at this handsome mug.
While he's already clearly poking fun at himself, Lively had to get in on the action, too. What red-blooded wife can just let a massive advertisement of her husband come and go? Not Lively. She commented on Reynold's Instagram:
Who needs a mini van?! I'm driving this from now on. Subtle, gorgeous, and OHMYGAWDYOUREHUGE.
Lively's comment is a sarcastic triple-whammy. She basically makes fun of herself, first, claiming she drives a stereotypically "uncool" minivan. Then, she calls Reynolds' HUGE campaign "subtle." It's a perfect, playful, joke.
In the past, Reynolds and Lively have been known to pretend to be in love with other, more famous celebrities instead of each other and even pick on one another's looks (in a loving, not-at-all serious way). The beauty of their banter is that it's never one-sided or more malicious than intended. They've struck a perfect balance, making it clear to fans how perfect for each other these two really are.
In doing some basic research on their marriage, I found out some key details I think you guys need to know about. Most importantly: Did you know they got married at Boone Hall Plantation in Mount Pleasant, South Carolina — A.K.A. THE LOCATION WHERE THE NOTEBOOK WAS FILMED???
Like, 'scuse you. What now? That is SO romantic and perfect and makes so much sense!
The two got hitched in September 2012 and have since had two beautiful babes named James, 3, and Inez, 1. Some might argue Lively's engagement ring is their third child, considering how much noise it created when they first got engaged. Plus, it's almost the size of a baby, too.
Anyway. Happy Aviation Gin campaign, Ryan. Your wife and I love it.