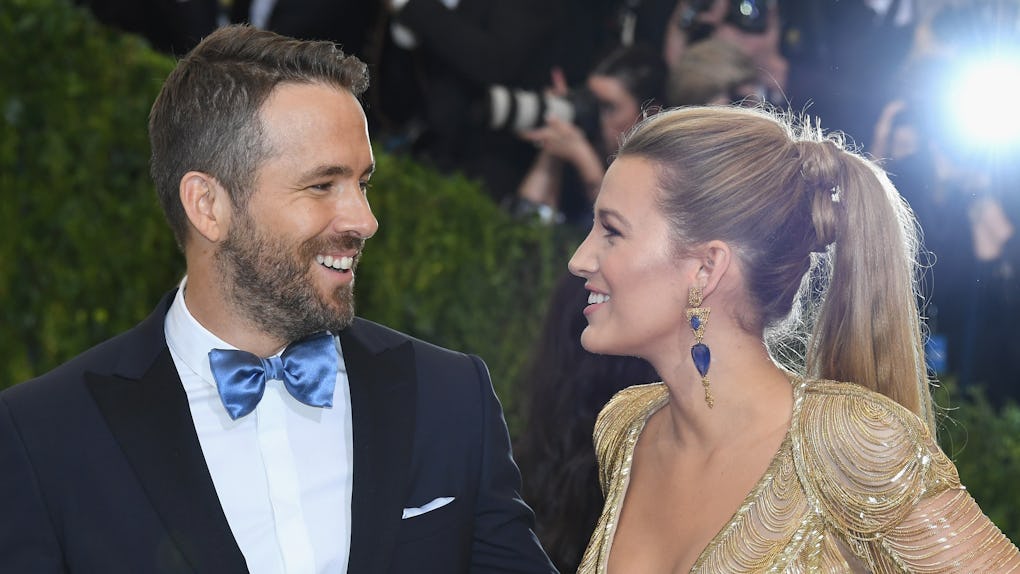 Dia Dipasupil/Getty Images Entertainment/Getty Images
Blake Lively & Ryan Reynolds' Marriage Is Perfection For This Simple Reason
It's always cool to see a celebrity couple really making their relationship work despite the demands of their careers. Golden couple Blake Lively and Ryan Reynolds' marriage is definitely solid, but their secret is pretty surprising. Marriage takes work, for sure, but they have it all figured out.
After all, being two very successful actors with busy careers and two young kids (James, 2, and Inez, 1) while maintaining a successful relationship is no easy task. Lively offered the couple's best marriage tip and it makes total sense: They don't let distance get in the way.
She recently told People magazine:
My husband and I don't work at the same time, so we all go together as a family. If we're away as a family, it's never more than for a day. We stay together.
Easier said than done, I imagine, given that they're far-flung on movie locations, TV interviews, and press tours. It's a lot of those extra demands that could easily put so much stress on most couples. She even admits that it can be hectic, noting that she started shooting the film All I See Is You four months after Inez was born. She explained:
I'm not in an office where I can't do that, so she's either with me or when I'm shooting a scene, she's one room away. If she really needs me, I can pop over there.
Lively and Reynolds definitely keep the fun in their relationship, as evidenced by the hilarious ways they celebrated each other's birthdays this year. Reynolds kicked it off by wishing his wife a happy birthday — by cropping most of her face out of a photo and focusing on his handsome face, writing: "Happy Birthday to my amazing wife." Nice.
No worries, Lively got back at Reynolds perfectly, celebrating his birthday with a pic that cropped her husband (almost) out of a pic while focusing solely on that other famous Ryan: Ryan Gosling. Her message? "Happy Birthday, baby." Well played.
In case you need more proof that they're total #relationshipgoals, check out what Lively shared about Reynolds in a 2014 interview with Vogue magazine:
... Everything we do in life we do together ... I get to share my life with the person he's become, and we get to grow from there.
She told Marie Claire that same year just how close she and Reynolds are, explaining: "We've never gone a week without seeing each other. There's no major decision that I make without him. The best part is when we turn off our phones and just talk and hang out. He's my best, best friend. What do you do with your best friend? You do nothing."
Perfection, right? And in a 2016 interview with Marie Claire, Lively had this to say about her relationship with Reynolds:
I knew he would always be my best friend for my whole life. That was the biggest thing to me. I'd never known anything like the friendship that I had with him. I could like him as much as I loved him.
Could these two be any more perfect, honestly?
Check out the happy couple at Reynold's birthday celebration last year in this pic he posted on Instagram, writing: "Best. Birthday. Everrrrr. Courtesy of my wife, buddy, and international spy, @blakelively. With huge thanks to my favorite restaurant in NYC, @_o_ya_ — and a special shout out to our children for not ruining everything like they planned."
Goals on goals on goals.
For this year's birthday, he shared this hilarious take on family life in the Lively-Reynolds household, tweeting: "My kids tried to surprise me for my birthday this morning. I totally heard them coming and snuck out to start a new life somewhere else."
Never change, you guys.
Check out the entire Gen Why series and other videos on Facebook and the Bustle app across Apple TV, Roku, and Amazon Fire TV.