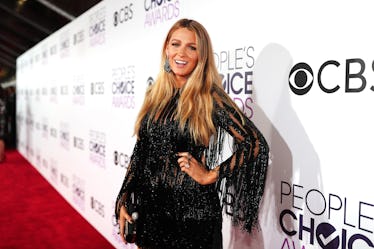 Blake Lively Literally Looks Like A Different Person In Her New Movie, 'The Rhythm Project'
Christopher Polk/Getty Images Entertainment/Getty Images
It's hard to think of Blake Lively and not immediately imagine how beautiful, glamorous, and polished the actress always looks. We're used to seeing Blake in roles like Gossip Girl's Serena van der Woodsen that accentuate her beauty, and on red carpets where she's draped in designer dresses, jewels, and shoes, but Blake Lively is unrecognizable in The Rhythm Section and new pictures have surfaced that show how different the actress looks on the set of her new film.
Several pictures that surfaced online this past Sunday feature Blake filming her new movie in Dublin. In the pics, the A-lister is sporting looks we've never seen on her before, giving new meaning to the term "garbage-chic."
In the first pic, Blake is dressed in a worn-in, oversized, quilted jacket that even the Salvation Army would likely turn away, loose-fitting sweatpants, and old black sneakers. To make matters worse (or better, depending on your viewpoint) her hair is a mess and it looks like she hasn't showered in days.
In the rest of the pictures, the actress has on a different huge coat, but still rocks the same unlaundered sweats and dumpster shoes. This time, for some added flair, she adds a cigarette and a beanie and, TBH, I feel like this is my weekend wardrobe?
All of this, of course, fits Lively's latest role perfectly. Blake is starring alongside Jude Law in a thriller titled The Rhythm Section, which is slated for release in February 2019. According to The Hollywood Reporter, Blake plays a woman named Stephanie Patrick who "[I]s on a path of self-destruction after the death of her family in an airplane crash, a flight that she was meant to be on."
THR goes on to report,
After discovering that the crash was not an accident, [Stephanie's] anger awakens a new sense of purpose and she rises to uncover the truth by adopting the identity of an assassin to track down those responsible. The new, and lethal, Stephanie Patrick is on a mission to fill the void between what she knows and what she is told.
The project is an adaptation of the first book in a series of Stephanie Patrick novels written by British thriller writer Mark Burnell. I can't be the only one who smells a franchise here, can I?
Of course, that all depends on how audiences receive The Rhythm Section. If Blake's dedication to the role is any indication, though, I think we're in for one hell of a thriller. The actress recently stopped by Vanity Fair's The Limelight podcast, where she spoke more about her role and the struggle actresses have to play "likable" characters.
Lively said,
I play a heroin-addicted prostitute. Going back to the likable thing ... you always see that thing in movies where if a woman is a prostitute or a sex worker, you always think, 'I don't want the guys to be grossed out by her,' We have to still make her kind of sexy ... tragically sexy, but you know, music video.
Clearly she and The Rhythm Section filmmakers have tried to keep that double standard in mind while filming; Lively continued,
If you drive down skid row that's not what you see. That's not the truth. So it's really important to us to show a woman who society has written off, and society has forgotten about.
From the looks and sounds of it, we're about to see Blake Lively like we've never seen her before and I, for one, can't wait.
Blake's new look as Stephanie Patrick for the big screen isn't her only dramatic transformation, though. Indeed, the 30-year-old actress recently chopped a few inches of her gorgeous locks and debuted a stylish long bob at a screening for her most recent film, All I See is You.
As exciting as Blake's new role is, I gotta say, classic Blake never fails to impress. Here's to seeing more of her timeless glamour and style.
Check out the entire Gen Why series and other videos on Facebook and the Bustle app across Apple TV, Roku, and Amazon Fire TV.