Disney's choice to invest in the Marvel movie brand in 2009 has paid off handsomely over the last decade. Iron Man was a smash that begat The Avengers, The Avengers was a smash that begat Captain America: Winter Soldier, etc. But even with all the hype for the new Thor movie, which some claim will be the best of his stand alone series, it's nothing like the anticipation for Black Panther. With hype running so high, today's trailer arrived with a huge splash. Let's run down all the Black Panther trailer details you definitely missed.
The trailer starts out announcing that you should in in fact believe the hype. Aliens landing in New York? A country floating in mid air? A man made of iron, a time traveling hero, a god of thunder, and a man who turns green with rage? Yes, you will believe it all. But for all that, you ain't seen nothing yet. Meet T'Challa (played by Chadwick Boseman.)
"What more are you hiding?" asks Evert Ross (played by Martin Freeman.)
Wakanda has been there through all of it, protected by forests, secrecy and technology. And it's also here to inform you that none of that stuff that's come before has impressed the people who live there in the slightest. That's because they're living in a world of afro-futurism, and you only wish you could keep up.
The White Gorilla Cult Throne Room
For those wondering where the heck this opening shot is, most think this wintery throne room isn't in Westeros, but in the home of the White Gorilla Cult (one of Wakanda's enemies.) That's M'Baku (played by Winston Duke) seated in the center.
Why We've Never Seen Wakanda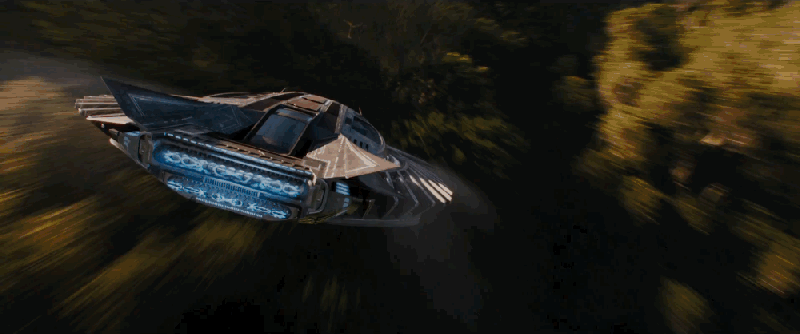 This needs a gif to do it justice, as we see Okoye (played by Danai Gurira) fly T'challa's personal shuttle into a city powered by something far beyond any technology known in the west. Note her hands are floating in the air and the shuttle moves as she tips them, yet she touches nothing.
Her outfit, by the way, is the uniform of the Dora Milaje, Black Panther's personal body guards.
Meet Ramonda, T'challa's Mother
Wife to the late king (who we saw perish in The Avengers 2: Heroics Bugaloo), Ramonda is played by Angela Bassett, and is sporting one of many, many afro-futuristic outfits that positively litter this movie.
T'challa's Love Interest Is Also Of The Dora Milaje
Played by Lupita Nyong'o, this is Nakia; she is both body guard and not-quite girlfriend to our hero. In the comics, she betrays him and joins with his rival, Erik Killmonger. Speaking of which...
Meet Erik Killmonger
Eric Killmonger (played by Michael B. Jordan), our big bad, is an outsider in exile, who's always trying to take down Wakanda from afar. In the trailer, we see him and Ulysses Klaue (Andy Serkis, the smuggler from Avengers 2) team up together to rob this African Art museum, which will somehow lead to....
The Golden Panther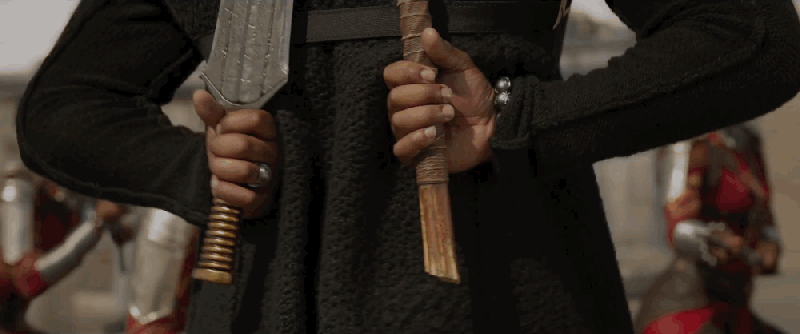 ...A huge change from the original material. Unlike the comics, Killmonger is clearly inside Wakanda, and he's staging one hell of a coup, complete with his own golden trimmed catsuit. (That's good, because, it helps differentiate which is which when they go mano-a-mano in a catfight.)
So since things have significantly changed, perhaps Nakia following him is also cut? We can only hope.
T'Challa Has Other Good Relationships Tho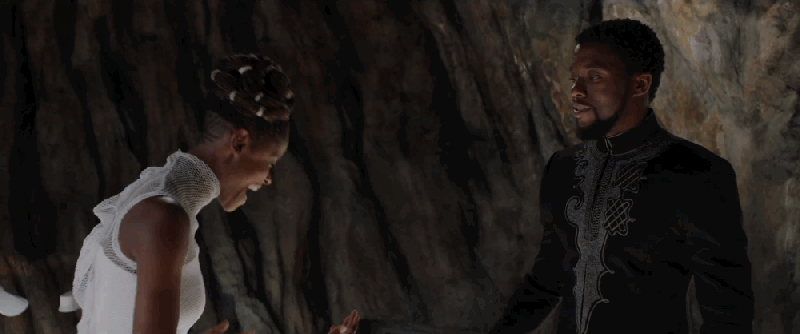 Like with his sister, Shuri (played by Letitia Wright.) She's the one who invested his suit, and in the trailer we see her handing him a more jazzed up version. Sort of like Q in the Bond movies, but far better dressed, and working with far better technology.
This Movie Is Gorgeous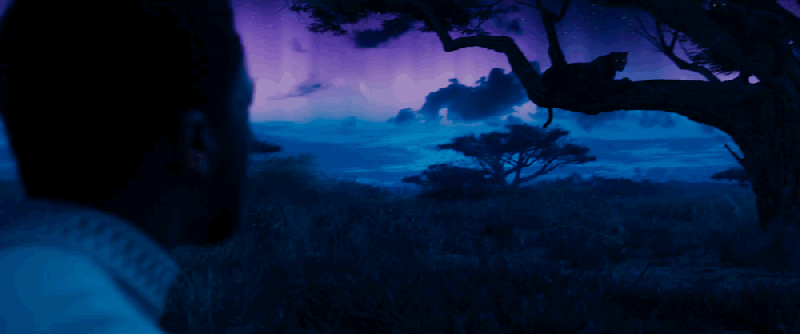 OK, maybe you didn't miss that. But seriously, this scene where T'Challa walks up to the tree of life, and the panther sitting in it, is just a stunner. (Some speculate it's a vision he has after eating the Heart-Shaped Herb, which gives the Black Panther his powers.)
Black Panther Is A Hella Bad Ass
We knew this, a little, from the Avengers 2 movie, but the sequence in the trailer (which is apparently in Seoul?) is just a stunner. We see him versus Klaue, riding through the streets in what is sure to be just one of the many big screen thrill rides to come.
Black Panther lands in theaters Feb. 16, 2018.