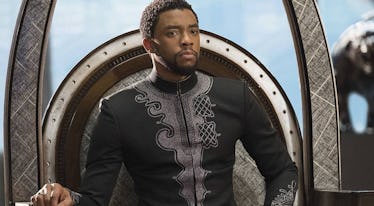 'Black Panther' Is The Most Tweeted-About Movie Ever Thanks To Your #WakandaForever Post
Marvel
Black Panther is not done shredding movie records just yet. Marvel's latest release is not only still cleaning up at the box office and among critics, but it is also officially the most popular movie of all time among Twitter users. A little over a month since the superhero movie was released, Black Panther is now the most tweeted-about movie ever according to Twitter's analytics. Clearly, Wakanda is alive and well on Twitter.
Black Panther has been clawing its way to the most-tweeted movie throne for a while now. Even though it didn't come out until Feb. 16, 2018, the movie had secured its spot as the ninth most-tweeted about movie of 2017 thanks to thousands of excited fans amped about the then-upcoming release. A couple days before it premiered, Black Panther became the most-tweeted about movie of 2018. Now that it has been out for slightly more than a month, Black Panther has garnered over 35 million tweets, officially skyrocketing it into the number one spot as the most-tweeted about movie of. all. time!
Of course, this was a group effort — we all did our part to help this happen — but three tweets specifically really helped Black Panther achieve this new record. Twitter revealed that the most retweeted Black Panther tweets come from the movie's soundtrack curator Kendrick Lamar, a fan who went to extreme lengths to try to sneak into the movie, and former first lady Michelle Obama.
Twitter also revealed which Black Panther characters have gotten the most love on the social media site, and which hashtags and emojis have been used the most in relation to the movie.
The most tweeted-about Black Panther characters are as follows:
T'Challa/Black Panther
Shuri
Killmonger
The most tweeted emojis included in Black Panther tweets are the crown, the black heart, and the flame. And finally, the top hashtags associated with Black Panther on Twitter are as follows:
#BlackPanther
#WakandaForever
#Wakanda
This new record probably does not come as much of a surprise to anyone on Twitter, since pretty much everyone on the social media site has been talking about Black Panther at length for months now. And considering the fact that the Marvel movie is still in theaters and dominating the box office even over new releases despite it having premiered a month ago, we can only expect that number of tweets to grow more and more.
Black Panther has not only broken records on Twitter, but also in earnings and ratings. The movie currently holds a lofty 97 percent fresh rating on Rotten Tomatoes, making it the highest rated movie Marvel has released, and one of the most highly rated movies ever. On the money side, Black Panther easily became the highest grossing movie of 2018, and its currently nearing $1.2 billion worldwide box office earnings make it the fourteenth highest grossing movie ever made — a ranking that is expected to continue to rise in coming months, since Black Panther is still raking in money.
Given the meteoric success of Black Panther and the followup-friendly Marvel cinematic universe that the movie exists within, there is a pretty high probability that fans will be getting a sequel, though that has not been officially confirmed yet. Still, Black Panther, Shuri, Okoye, and other characters introduced in Black Panther will be returning to the big screen very shortly in Avengers: Infinity War, which will land in theaters on April 27, 2018, and have the possibility of popping up in any number of Marvel movies that follow.
Anyway, keep up those Black Panther tweets and enjoy being a part of history! #WakandaForever 🔥