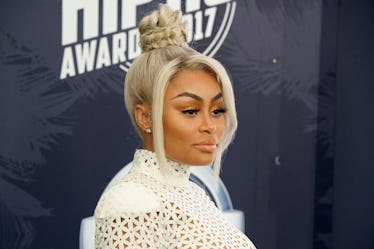 Blac Chyna Speaks Out On Instagram After Reportedly Getting In A Fight At Six Flags
Bennett Raglin/Getty Images Entertainment/Getty Images
Easter weekend is usually a quiet time for family and friends, but in Blac Chyna's case, things reportedly got a little aggressive. The famous reality TV mom and her crew were enjoying Easter Sunday at Six Flags in Valencia, California, when the afternoon took a turn. According to video footage from eyewitnesses, Chyna and her group of friends reportedly engaged in a physical altercation that reportedly started when a woman got too close to Chyna's daughter, Dream. Elite Daily reached out to Chyna's team to confirm the details of the fight and the eyewitness reports, but did not hear back by the time of publication. However, Blac Chyna responded to details of a reported fight at Six Flags on her Instagram story a few hours after the footage surfaced on April 1. She wrote,
Being famous is hard enough dealing with scrutiny but when someone feels comfortable to come and touch your child it's a whole other story. I do not condone violence nor am I a violent person but shout out to all of the amazing mothers out there that will protect their children at all cost. Love, King and Dreams Mommy.
An eyewitness told E! News the incident occurred around 6:45 p.m. outside of the X2 ride.
In the numerous pictures and videos posted to Instagram and Twitter, the conflict appears to have caused a large scene.
Instagram user @ct_av caught a video of Chyna and her group reportedly walking by and posted it with the caption, "#BlacChyna walking around #sixflags like a boss.... she got mad at the chick next to me for saying hi to her daughter!"
On Twitter, user @AliciaaAngiee posted a bunch of videos in which a woman — who fans claim is Blac Chyna — is seen removing her coat and wielding a stroller. One of the videos was captioned, "BROOO THAT'S BLAC CHYNAAA FIGHTING." Many people tried to stop the altercation, but mainly, bystanders just took out their cameras and started recording.
One eyewitness claimed to E! News, "I saw the initial contact. A woman with the pink shoes tried grabbing [Chyna's] baby's hand and Chyna told her, 'Don't be grabbing on my baby' and walked off."
In another video shared by Instagram user @twaan_, what looks to be one of Chyna's friends appears to tell the woman in pink shoes to "back the f*ck up." Moments later, a different reported member of Chyna's group gets physical with the woman in pink shoes. It appears Chyna's bodyguard does his best to remove her from the squabble.
After the altercation, the eyewitness claimed, "The lady with the pink shoes just sat there in shock," and later reportedly exclaimed she wanted to "slap" Chyna.
Additional witnesses claimed Chyna "got upset because someone touched her baby," and yet another source claimed Chyna "went off," telling the woman "not to touch her baby and that she was gonna beat her ass."
Another E! News insider claimed,
[Chyna] said, 'Don't f**king touch my baby.' The girl was just trying to compliment how cute the baby was. Nobody knew or noticed it was Chyna's baby until Chyna went off.
On April 2, just one day after the fight, Chyna shared a picture of her son, King, kissing baby Dream in the same stroller it looks like they rode in over the weekend. She also shared a video of her children hugging.
Chyna captioned the image, "All love," and shared a simple heart emoji with the video.
What's the saying — all's well that ends well on Instagram? Something like that.
Check out the entire Gen Why series and other videos on Facebook and the Bustle app across Apple TV, Roku, and Amazon Fire TV.