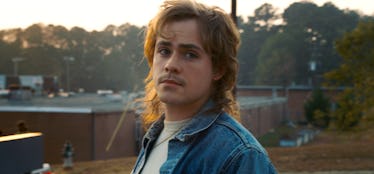 Billy From 'Stranger Things' Looks Unrecognizable IRL & Fans Are Swooning
Netflix
Stranger Things fans spent the weekend binging Season 2, meeting all the new characters — from Lucas' sister, Erica (spitfire Priah Ferguson) to the awesomeness that is Mad Max (Sadie Sink), to the hilariousness that is Max's older brother, Billy (Dacre Montgomery), and Sean Astin's sweet Bob Newby. But of the new characters, it's Australian Dacre Montgomery's character Billy from Stranger Things who has fans swooning everywhere, especially out of his mullet wig.
Considering it's Billy who has one of the funniest moments of the entire season in Episode 9 — showing up to the Wheeler home all Fabio-looking and interrupting Mrs. Wheeler's bubble bath romance reading — perhaps it's not that much of a surprise. Despite the character's bad attitude (and the aforementioned wig), his ability to eat a cookie on camera suggests his ability to eat, well, cookies, off camera might be pretty darn good, too.
While some of us still reserve our hearts for Joe Keery's "Slowly Maturing" Steve and his hair, for others, it's Billy and his Rob Lowe-based '80s aesthetic that is doing it for women across the Twitterverse.
Even if Billy never actually saw any of the Stranger Things... he was still getting a little stranger here and there.
By the way, Billy, you really ought to thank Rob Lowe for starting this trend back in the Brat Pack days.
But if that wasn't enough, it's when Montgomery has the wig off that fans really start screaming.
Recognize that image? It's from this spring's Power Rangers movie. Yes, everyone. Billy was Jason, aka the "Red Ranger," in the recent 2017 Power Rangers live-action reboot that tried to spawn a franchise.
The box office returns suggested that the Power Rangers won't be suiting up for a sequel anytime soon, but that's okay. It just means less competition for Montgomery's unbuttoned shirts and tight denim jeans.
It gets prettier from here on out.
Baseball! It's practically All-American! Even Billy's father might approve of this pastime.
And one more, in short shorts...
Who loves short shorts? We love short shorts.
Fans on Twitter are all about it.
No arguments here.
Wig or no wig, Billy's cookie-eating skills are on point. Also, we should note this would be an *excellent* way to bring back Mrs. Wheeler into the story in Season 3 after actress Cara Buono spent practically all of this one on the bench.
It helps that Montgomery has a killer accent in real life. (I mean who isn't a sucker for an Australian accent? I ask you!)
Also, just in case you were wondering (and you were totally wondering), Montgomery and Joe Keery (who plays Steve) are good buddies off-screen.
Fans will remind you quickly that unlike Montgomery's, that's Joe Keery's own hair, thank you very much. All we need is a little bit of restyling and things are good to go.
Personally, I want all his jackets.
All of the jackets.
And if we're talking accents, Charlie Heaton's Yorkshire lilt is definitely just as sexy as anything from down under.
But does one really have to choose? The best part about Stranger Things Season 2 is it has all three for us to feast upon. (Or at least for the Wheeler women to consider feasting upon, if they don't actually do so.)
And though some definitely would consider themselves lucky if they were seated between Steve and Billy, it's hard not to prefer one flavor to another.
So, let's hear it for all the boys of Stranger Things Season 2, and for Dacre Montgomery. He can hang out in our kitchens and eat cookies anytime.