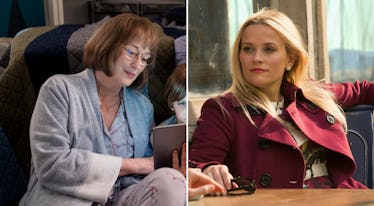 These New Details About Meryl Streep In 'Big Little Lies' Season 2 Are So, So Juicy
HBO
Leave it to Madeline Mackenzie to stir up the drama. Reese Witherspoon's Big Little Lies character will not be giving Meryl Streep a warm welcome in Season 2 — a new photo of the two actresses filming for the HBO series reveals that Big Little Lies Season 2 will pit Meryl Streep against Reese Witherspoon, as a confrontation erupts between the Monterey moms.
Cameras caught Reese Witherspoon and Meryl Streep filming a rather unusual scene for the upcoming season of Big Little Lies in Los Angeles on Tuesday, and it seems to confirm that Witherspoon's character Madeline Mackenzie will find herself at odds with Streep's character of Mary Louise Wright. A photo taken of the scene (which you can see on Entertainment Tonight) shows Madeline about to hurl an ice cream cone at an unaware Mary Louise, who is walking away from her on the sidewalk. Talk about a cold reception! It looks like Madeline and Mary Louise will be fighting against one another in Season 2 rather than bonding over coffee. Kathryn Newton, who plays Madeline's rebellious teenaged daughter Abigail, was also reportedly part of the scene, and reacted in shock at the ice cream throw.
So now the question is, what is going to happen in Big Little Lies Season 2 that will make Madeline Mackenzie so mad at Mary Louis Wright that she will hurl and ice cream cone at her? That is still unclear, but we can make some guesses based on what we know about Meryl Streep's new character in the show. Streep is joining Season 2 as Mary Louis Wright, the mother of Perry Wright. HBO has revealed that Perry's mother comes to Monterey after Perry's death both out of concern for her grandchildren and to look for answers. The network also released a first look at Mary Louise Wright, looking at a tablet with her two grandsons and her daughter-in-law Celeste Wright (Nicole Kidman).
The detail that jumps out from what we know about Meryl Streep's character so far is that she will be "searching for answers" about her son's murder in Monterey. As fans of the show know, Bonnie Carlson (Zoë Kravitz) killed Perry Wright (Alexander Skarsgård) by pushing him down a staircase at the end of Season 1, after finding out that he had repeatedly abused Celeste and raped Jane Chapman (Shailene Woodley). After the murder, Madeline, Celeste, Jane, Bonnie, and Renata Klein (Laura Dern) all agree to stay silent on how Perry died to the police.
And although the five women seem to have fooled the police investigators, they will likely face even more scrutiny over Perry's death from Perry's mother in Season 2. With the tease that Mary Louis Wright will be poking around for the truth about her son's death, it definitely sounds like she will be something of an antagonist in the new season, threatening to expose the murderous secret that the Monterey moms have been keeping. No wonder Madeline feels the urge to hurl a sweet tweet at her!
Big Little Lies Season 2 will premiere on HBO sometime in 2019.