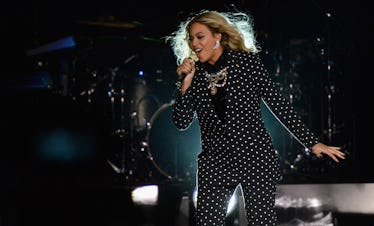 Beyoncé Dressed As Lil' Kim For Halloween & The Internet Can't Handle It
Duane Prokop/Getty Images Entertainment/Getty Images
Halloween isn't over until Beyoncé says it is over. If Queen Bey wants to wait until three days after the holiday to post her costume, dammit, she can and will. Beyoncé's Lil' Kim Halloween costume was sheer perfection, and everyone — including Lil' Kim herself! — could barely handle it. It should also be noted that, somehow, no matter what's happening in the world, the singer can top the entire news cycle, and I'm very, very OK with that.
On Oct. 30, Kelly Rowland threw a Halloween bash, and Beyoncé was on hand, looking eerily similar to Lil' Kim. Like, double-take similar. The singer paid tribute to Kim by dressing up in a series of costumes reminiscent of the rapper's late '90s and early 2000s outfits. She penciled on that signature beauty mark, and rocked (among other things) a blue wig, a nude jumpsuit, a furry, neon green coat, a slinky nightie, and some seriously high-waisted red pants. Oh, and to top it all off, Jay-Z was her date for the evening and did his own spot-on impression of the late Biggie Smalls.
The two posed for pictures together and the whole thing was sheer, spot-on perfection. Beyoncé posted a series of those pictures on her website, writing: "Hip hop would not be the same without the original Queen B."
Lil' Kim was, understandably, freaking out and gave a firm stamp of approval.
In case you're still not sufficiently impressed by Beyoncé's Halloween skills, check out Missy Elliott's music video "Rain." It will become abundantly clear that Queen Bey nailed the rapper's look, all the way down to those fabulous Chanel suspenders.
The rest of the internet definitely agreed.
Fans were freaking out on Instagram as well, posting such ecstatic comments as:
Bey rocked the f outta this!
seriously just incredible
⭐️⭐️⭐️⭐️⭐️ no words can explain!!! You just did it!!!! ❤️✅
YOU KILLED THIS!! Yas queen!! Iconic!!
Yaaaaas!!! Lil Kim & Beyoncé are both legends yaaaass best to ever do it
Incidentally, can ANYONE (aside from Meryl Streep) pull off a grey wig like Beyoncé can? No seriously, please send other examples my way.
While this was definitely a very, very welcome and much-needed internet gift, it's really no secret that Beyoncé consistently slays on Halloween. The singer has pulled together a whole slew of iconic costumes, many of which pay homage to some our most beloved musical icons. As an added bonus, she almost always adds Jay-Z and her daughter Blue Ivy into the mix, making for a very Happy Halloween indeed. In past years they've been...
And angel and a bumblebee.
Janet and Michael Jackson.
Coming to America
Barbie and Ken
Salt N' Pepper (ft. Tina Knowles)
Bonus Points: Jay-Z captured Beyoncé in action that Halloween, dancing the night away, '80s style.
While Beyoncé has never dressed up as herself for Halloween (though, somehow, I feel like she could manage to do that without it being weird), she does know exactly what version of Queen Bey she'd be. During an interview with Beat in 2015, the singer was asked what era of Beyoncé she'd goes as if she went to to a Beyoncé-themed Halloween party. Bey responded,
Destiny's Child 'Survivor' era with the army fatigues. Or maybe 'Bootylicious' with the gold tooth and pink tips in my hair.
Yup, yup, yup. I could definitely get on-board with that.
So basically the moral of the story is that we should all probably dress up like Destiny's Child next Halloween, and also hope that one day we reach a place where Beyoncé would consider dressing up as us. I know, I know, whatever, a girl can dream.