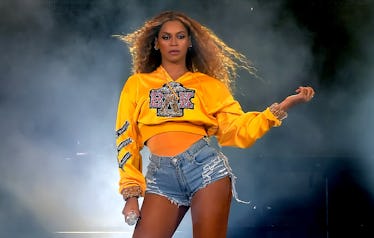 Beyoncé Shared Who She's Rooting For In The Midterms With The Perfect Instagram
Kevin Winter/Getty Images Entertainment/Getty Images
Clearly, celebrities can't get enough of Beto O'Rourke. If you needed any further proof, look no further than Beyoncé's Instagram supporting Beto O'Rourke in the 2018 midterm elections. She'd previously been silent on the contentious race. But on Nov. 6, she emphatically endorsed the U.S. Senate candidate, who's running to represent her home state of Texas, in a series of photos shared on her social media and it's all absolutely flawless.
In the photos, the Houston native is seen wearing an all-black jumpsuit and a black-and-white baseball cap that reads, "BETO FOR SENATE." She also threw up a hand signal for her hometown in typical 'Yonce fashion, along with a glowing caption urging her followers to vote. The message read:
I'm feeling grateful for everyone before me who fought so hard to give us all the right to have a voice. We can't voice our frustrations and complain about what's wrong without voting and exercising our power to make it right. We need you. We all need each other, because when we are truly united we are unstoppable. Sending you all love and positivity on this happy voting day! Every vote counts, Every race matters, Everywhere.
Well said, Mrs. Carter.
O'Rourke, who is running against Republican Sen. Ted Cruz, has become one of the most closely-watched candidates in the weeks leading up to the midterm elections. According to The Hill, over the course of the race, he's raised more money than any U.S. Senate candidate in American history, with many contributions coming from celebrities including Chelsea Handler, Chris Rock, Sarah Jessica Parker, and Jimmy Kimmel, per TMZ. Still, the race is neck and neck, with a recent poll from Emerson College showing Cruz leading by just three points. However, anything is possible through the power of Beyoncé, so we'll see how this pans out.
Over the years, Beyoncé has made her support of Democratic candidates more than clear. Back in 2016, the 37-year-old Grammy winner endorsed Democratic nominee Hillary Clinton in the race for the White House, and urged her fans to "get in formation" and do the same at the polls. Speaking at a Tidal concert in October 2016, she said:
It can be easy to feel helpless and want to just block the world out, but doing nothing right now is not an option. I know it seems like things are bad, but if you think they can't get worse, just ask your grandparents. Remember Barack Obama is our president. You made that happen. Young people made that happen. We are not helpless. The fire is still burning. Please go out and vote ...
She's also close friends with President Barack Obama and Michelle Obama, and she sang the National Anthem to him during his 2013 inauguration.
Clearly, she's getting right back in formation in the 2018 midterms and her message is serious: Beto O'Rourke for U.S. Senate. You might not agree, but you can't deny the truth in the importance of voting. So:
More to come.