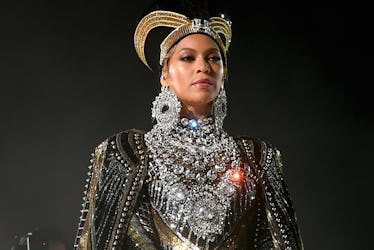 Beyoncé Just Released The Most Heartfelt Letter To Fans For Her 37th Birthday
Larry Busacca/Getty Images for Coachella
Beyoncé, the light of my life, the Queen Bey, turned 37 on Sept. 4. Every year on her birthday, the #BeyDay hashtag trends on Twitter filling everyone's feeds with words of love for the idolized singer. She always sends a thank you back to her fans, and Beyoncé's letter to fans on her 37th birthday is as regal a message as you'd expect from Beyoncé. The letter, titled "Your B*tch at 36" (iconic), lists all of the ways her personal and professional lives have evolved in the last year and what she looks forward to in the future. I've read it four times now and honestly feel like I somehow meditated through it all? I am the most relaxed I've been all week? Beyoncé has put me in a trance?
The letter starts off with Bey saying, "At 36, I became a mother of three. "I breastfed twins. I renewed vows with my husband of ten years." BRB, sobbing. She continued,
I came back home to the stage to do Coachella, after pregnancy. Then my husband and I released our album together, Everything is Love. And we've been touring with our whole family around the world, and loving it. This year has been monumental for me.
Girl, same. Literally only because of you, but same.
The letter didn't stop there. "I thank God for everyone in my life," she said. "Thank you for all the positivity and for the beautiful birthday wishes. I'm looking forward to continuing to learn from my past, living in the present and surrendering to the future." Anytime I knowingly make a mistake from now on, I'm going to just say I'm surrendering to the future.
Me surrendering to the future knowing full well that I'm f*cking things up, still have bills to pay, and have solved no problems.
Beyoncé made me do it.
This letter comes off the heels of Beyoncé's historic September Vogue cover. She wrote the cover story herself, of course, finally cutting out the middle man and just handling her press her damn self. She revealed in the essay that she had life-threatening complications when giving birth to twins Rumi and Sir last June. "I was 218 pounds the day I gave birth to Rumi and Sir," she said. "I was swollen from toxemia and had been on bed rest for over a month. My health and my babies' health were in danger, so I had an emergency C-section. We spent many weeks in the NICU."
She said JAY-Z was a pillar of support throughout the health scare, and that she gained weight during her pregnancy just like any woman does. But differing from her first pregnancy with Blue Ivy, she didn't pressure herself to drop the weight quickly this time around.
"Looking back, that was crazy," Bey said. "I was still breastfeeding when I performed the Revel shows in Atlantic City in 2012. After the twins, I approached things very differently." She continued, "I needed time to heal, to recover. During my recovery, I gave myself self-love and self-care, and I embraced being curvier. I accepted what my body wanted to be." Then she referred to part of her remaining baby weight as her "mommy pouch" and her "FUPA," saying that they feel meant to be. (My god, I love this woman so much.) She said,
To this day my arms, shoulders, breasts, and thighs are fuller. I have a little mommy pouch, and I'm in no rush to get rid of it. I think it's real. Whenever I'm ready to get a six-pack, I will go into beast zone and work my ass off until I have it. But right now, my little FUPA and I feel like we are meant to be.
While the essay she penned was a rare treat, the most monumental part of Beyoncé's Vogue cover was that she recruited photographer Tyler Mitchell to shoot the cover, making him the first African American to shoot a cover for Vogue. It really has been a monumental year for the Queen Bey. Now just tell us who bit you!! Oh, also, happy birthday! You are my everything.