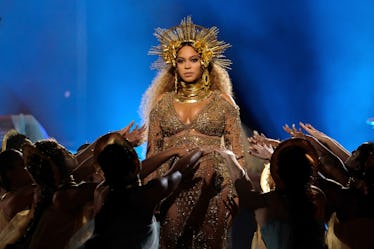 Beyoncé Knocked Selena Gomez Out Of The Top Spot For This Major Instagram Record
Larry Busacca/Getty Images Entertainment/Getty Images
2017 has not been a year for the weak of heart. We have seen some of the most intense times of our millennial lives socially, politically, and in our beloved pop culture. Just when you think you have a grasp on what the heck is going on, Beyoncé wins most liked Instagram of 2017, and eclipses reigning IG star, Selena Gomez. What a freaking time to be alive.
In 2016, Gomez topped the Instagram charts with the most followers, capping off that year around 103 million people. According to Business Insider, at the time, Beyoncé was in fourth place with 88.9 million followers. Since then, Gomez has upped her number to 130 million followers and Beyoncé is not far behind with 103 million. That means Gomez averaged around 74,000 new followers every damn day. You guys... that is f*cking insane.
BUT WHAT PHOTO COULD I POSSIBLY BE TALKING ABOUT CAME IN FIRST?
I don't know... I mean... what picture do you think I'm talking about? What photo stopped the world in it's tracks? What photo changed our lives forever? What photo involved, like, a lot of plants?
Think, think, think.
I'm obviously talking about Beyoncé's twin pregnancy announcement, and if you don't know what I'm talking about please get out and never come back.
On Feb. 1, Bey delivered us this iconic moment to the tune of 11,180,513 likes.
I didn't really "get it" then, and I still don't get it now. All I know is I'm obsessed with it. Somewhere, someone is probably getting this picture tattooed on their back as we speak.
Beyoncé captioned the photo,
We would like to share our love and happiness. We have been blessed two times over. We are incredibly grateful that our family will be growing by two, and we thank you for your well wishes. - The Carters
Holy Destiny's Child, Batman.
The arrival of Rumi and Sir Carter was a wonderful day indeed, and only recently leaked images of the sweet babies' faces started making the rounds.
Behold them in all of their chubby-cheeked glory.
Beyoncé's baby shrine picture surpassed Gomez's standing number one photo, which was a close up of the "Bad Liar" singer holding a Coke bottle.
In the picture, Gomez is wearing Coke's signature color red, and the bottle has some of her lyrics printed on the label.
She captioned the image, "when your lyrics are on the bottle #ad." It received just under 7 million likes.
The second most-liked celeb photo of 2017 is soccer player Cristiano Ronaldo's announcement that his fourth child was born this November. Ronaldo shared a photo of his seriously stunning girlfriend holding his new baby girl with the caption,
A Alana Martina acaba de nascer! Tanto a Geo como a Alana estão muito bem! Estamos todos muito felizes!
Translation: "Alana Martina is born! Both Georgina and Alana are doing great! We are all very happy!"
He received 11,029,248 likes, just a couple thousand shy of Beyoncé.
Hm... I seem to be seeing a trend.
Massive celeb status + newborn baby = mad likes on Instagram. Take notes, Selena.
Still, while the reigning Insta-queen was bumped down a few spots, she still is coming in third with her kidney transplant announcement, which gained the attention of just over 10 million likes.
The big takeaway? Celebrities, we love to love you.
Keep it coming in 2018 with more good news in health, love, family, and if you've got a great ad campaign... we might take that too.
Check out the entire Gen Why series and other videos on Facebook and the Bustle app across Apple TV, Roku, and Amazon Fire TV.