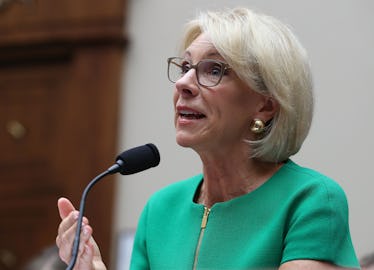 Betsy DeVos' Comments About The Santa Fe Shooting Has Me Wondering This One Thing
Mark Wilson/Getty Images News/Getty Images
Ever since the Feb. 14 Parkland shooting occurred, which left 17 students and faculty members from Marjory Stoneman Douglas High School dead, it seems as if people are speaking out about gun reform more than ever. That's also likely because another unfortunate tragedy — the Santa Fe shooting — swept the nation just days ago. In the midst of the shootings, Betsy DeVos has become a vocal advocate for school safety, and on May 22, she expressed her concerns on the matter during a testimony at Capitol Hill. However, Betsy DeVos' comments about the Santa Fe shooting have me questioning one major thing.
According to CNN, DeVos said the shooting — which happened on May 18, and left 10 people dead and another 10 injured — "was only the most recent, devastating reminder that our nation must come together to address the underlying issues that create a culture of violence." She continued, "Our commitment to every student's success is one we must renew every day, but first we must ensure our children are safe at school."
She concluded by saying the federal school safety commission would deliver the "best practices" to help protect students by the end of the year, but also stressed that the "primary responsibility for the physical security of schools rests with states and local communities."
It sounds good and all, but DeVos failed to mention the biggest topic surrounding the recent shootings: gun control.
DeVos has seemingly danced around the top of gun reform for a while now. Back in March, she visited the site of the Parkland shooting to meet with the surviving students and staff members, but she reportedly left abruptly after she was pressed on questions about gun laws. Elite Daily reached out to the Department of Education on the reports, but did not hear back by the time of publication.
Her actions infuriated many of the students who were looking forward to getting DeVos' insight on gun control, so they took to Twitter to share their experiences with the secretary of education.
Kyra Parrow, a Parkland student, wrote on Twitter, "She did not properly answer my only question. She did not sit down with any students and asked what we wanted. Douglas has 3,000 students. None of them were invited."
Naveed Jamali, a contributor for MSNBC, said DeVos only took five questions before leaving the school.
She apparently did the same thing in February, when she was asked by conservative radio host Hugh Hewitt if arming teachers was the solution to help stop mass shootings. Rather than sharing her personal stance on the issue, she insisted the decision should be left to individual states.
"This is an important issue for all states to grapple with and to tackle," she explained, according to ABC News. "I think this needs to be part of the broader, more robust conversation about how can we avoid these things in the future, and how can we ensure that when my child, your child, goes to school in the morning, they're going to go to a safe and nurturing environment."
She did, however, appear to be open to a particular Wyoming school district allowing guns in schools to protect students from "potential grizzlies" during a Senate confirmation hearing back in January. DeVos said, "I will refer back to Sen. [Mike] Enzi and the school he was talking about in Wyoming. I think probably there, I would imagine that there is probably a gun in the schools to protect from potential grizzlies."
I understand the need to play things safe, but with the topic of reformed gun legislation on nearly every headline or TV channel and mass shootings happening by the week, you've gotta be a little more open than this. Don't cha think?