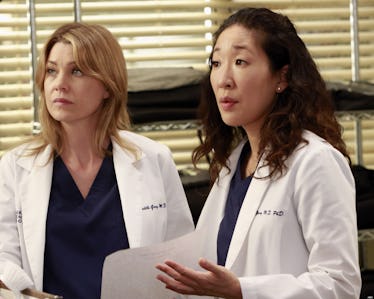 This 'One Tree Hill' Alum Is Joining The Cast Of 'Grey's Anatomy' & Our Hearts Are Exploding
ABC
Shondaland is a world of indestructible television shows. Most people at this point, when Shonda Rimes name is mentioned think of Scandal, now in it's final season, or How To Get Away With Murder, where Viola Davis walks away with an invisible Emmy every week. But Rime's OG show is still chugging along, outwitting, outplaying, and outlasting most of ABC's other programming. And now the news broke today that Bethany Joy Lenz will join Grey's Anatomy for Season 14, giving yet another shot in the arm to the show that will live forever.
The former One Tree Hill alumni will be moving into Grey Sloan Memorial as a guest star arc. Her casting comes on the heels of yet another regular departing the show. This time it was Martin Henderson, who played Nathan Riggs, who headed off into the sunsets of Los Angeles with guest star Abigail Spencer's Megan Hunt.
According to The Hollywood Reporter, which broke the news:
Lenz joins Grey's as the Ellen Pompeo drama is approaching its 300th episode and as it continues to replenish its cast. The drama last season said farewell to series regular Jerrika Hinton (Stephanie), while Jason George (Ben) is also poised to transition to the upcoming Grey's firefighter spinoff later this season. The drama, which welcomed back Krista Vernoff as co-showrunner (after her run in seasons one through seven), also recently introduced six new interns as the veteran drama looks to repopulate its ranks.
Since her decade long run ended on One Tree Hill, where she famously starred as Haley James Scott, Lenz has been bouncing around from TV show to TV show, as well as starring in a few TV movies including 2016's The Christmas Secret. Her biggest land to date was a serious arc in the later years of Showtime's Dexter as Cassie Jollenston.
This isn't the first time that Rimes has cast Lenz in one of her multiple television properties. She was originally included as part of the original cast of ABC's short lived series The Catch. Unfortunately, after the pilot episode, ABC heads decided the entire thing needed to go in a different direction, forcing a recast of Lenz's part. Not that it mattered, as The Catch was canceled this past May after only two seasons.
Instead, Lenz found herself being transferred to Marvel's bureaucratic TV division and spent time last season guest starring on Agents of S.H.I.E.L.D. as the Ivanka Trump-esque character Stephanie Malick.
As is expected from all shows that make up the Shondaland universe, all details about Lenz's character are still being withheld at this time. We also have no idea how many episodes Lenz will be appearing in. It could be the entire spring back half of the season, or it could be as short as a two episode run.
Lenz's addition to the show is coming during a time when things are changing at Grey Sloan Memorial. With 300 episodes and counting, the show needs to shake things up on a regular basis to keep the show fresh, though fans seem to love it just the way it is. Very few shows in the current television landscape last anywhere near this long, marking Grey's as both an old school hit and a new school curiosity in 2017.
As noted above, Grey's is currently working towards a firefighter-based spin off series, that could also have spots for guest star arcs, as well as a need to fill out the cast if it takes off next year, after the series gets seeded in Grey's Anatomy this spring.
Grey's Anatomy Season 14 currently airs Thursdays at 8 p.m. on ABC.