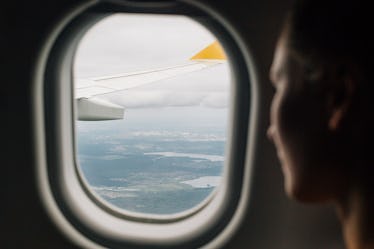 A Woman Says She Was Forced Off Of A Flight Because Of Period Cramps & I'm So Confused
Is it just me, or does anyone else find it interesting that conversations surrounding a woman's period are often approached with the idea that it's black or it's white, with little to no gray area of understanding? Case in point, The Sun reported that 24-year-old Beth Evans alleges she was removed from an Emirates plane because of her period, when a flight attendant overheard Evans make a passing comment about her cramps. Cue the entire world face-palming in response.
Following the incident, Emirates released a public statement to address the situation, which said:
The passenger alerted the crew onboard that she was suffering from discomfort and pain and mentioned that she was feeling unwell. The captain made the decision to request medical support and offload Ms. Evans so she could access medical assistance as needed. The safety of our passengers and crew is of paramount importance, and we would not have wanted to endanger Ms. Evans by delaying medical help had she worsened during the seven-hour flight to Dubai. We hope Ms. Evans felt better soon and look forward to welcoming her onboard again soon.
Elite Daily has also reached out to Emirates for additional comment, but did not hear back before publication.
According to The Sun, Evans and her boyfriend, 26-year-old Joshua Moran, were fastening their seat belts for their flight via Emirates airline from Birmingham, UK to Dubai, when a flight attendant heard Evans complain about having stomach cramps. According to Health, there were no doctors on the flight that could determine one way or another if Evans would be comfortable enough to make it through the seven-hour stretch. From there, the crew allegedly made an executive decision to boot the couple off the flight so Evans could "access medical assistance."
Many Twitter users have expressed their disappointment in the airline for removing Evans from the flight completely, rather than trying to accommodate her.
Unfortunately, there seems to be a lot of he-said-she-said to muddle through to get to the bottom of what's true and what's false here. For example, if, in fact, Evans did express that she was in pain, then the flight attendant who overheard her was simply following standard Emirates procedure.
According to the health requirements section on Emirates' website, if a passenger's health "is in doubt" or "requires assistance," it is important that said passenger be checked out before takeoff, to ensure they a) can fly without a pressing issue or b) get the medical attention they need. What's more, these requirements also state that there are no nursing attendants on Emirates flights, which means the airline either needs to consult with a medical professional, or make a decision based on the information available to them. However, it is worth noting that among the list of medical conditions that may cause a concern, period pain isn't one of them.
Evans described her pain to the flight crew as a "1 out of 10," The Sun reports, and she claimed to the outlet that she was more than willing to endure the seven-hour flight ahead. But after consulting with a medical team based in the U.S., the crew decided Evans was unfit to fly, and escorted the couple off the plane. Her boyfriend, Joshua Moran, claimed to The Sun,
Beth was in tears and getting upset when the hostess was asking her questions. It's embarrassing to have to explain about period pains when it's being overheard.
It's important to note that, while periods are natural and are in no way, shape, or form an illness, menstrual symptoms like cramping, back pain, and nausea can make traveling difficult, according to Vice. Having said that, if Evans was in pain, it wasn't necessarily wrong or inappropriate for the flight attendant to make sure she was OK. However, rather than remove Evans and Moran from the flight entirely, depending on what actually happened, the airline might have been able to handle the situation differently, by offering little assistances like a cup of hot tea, a blanket, or, more importantly, taking her word for it that the cramping was tolerable.
It's an unfortunate situation, but I'm glad to hear Evans is well, and can hopefully enjoy her trip to Dubai, despite all the complications.