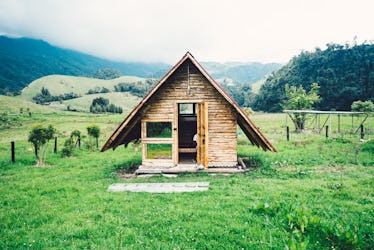 Besties Build Tiny Homes Next To Each Other So They Can Always Hang Out
hillsn_1992/Shutterstock
Not quite ready for retirement but feeling a little fatigued by the urban life, four Texas couples compromised.
The friends constructed a mini-home complex they labeled the Llano Exit Strategy.
According to a 2014 feature in Small House Bliss, the friends spent around $40,000 on each 350-square-foot home.
Each dwelling -- and the common building -- boasts a simplistic design created by architect Matt Garcia.
Click here to see photos of the homes from The Daily Mail and read on for more information.
The riverside property serves as a retreat primarily reserved for holidays, vacations and entertaining.
It's a place to get away from the hustle of Austin.
Fred Zipp, who owns part of the compound, told Garden & Gun magazine his plan was to preserve Texas' natural beauty as much as possible.
He said, "We're doing what we can to [preserve] as much water as possible for the native trees and grasses."
"Fortunately, they're beautiful."
Each cabin displays the Spartan beauty of Austin's landscape.
Each mini house has its own bathroom and customized furnishings.
The walls are plywood.
They're industrial, yet warm.
The real splurge, according to Garcia, was the kitchen.
The 1,500-square-foot building boasts a commercial range, a living room and a dining room. There's even a guest bedroom.
Llano Exit Strategy is the perfect weekend escape.
Editor's Note: This article has been updated from its original version.