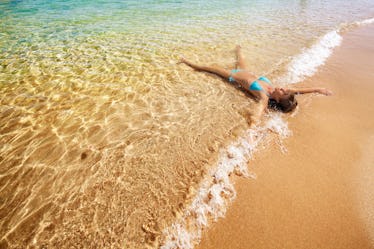 The Most Under The Radar Beaches To Visit For Fun In The Sun Without The Crowds
Life's a beach, so why not play in the sand? It's time to plan a beach getaway this summer if you haven't already. This time of the year is all about enjoying the sun, sand, and sea. There's only one problem, and that's finding the right kind of paradise. Everyone and their mother flocks to the beach during summer, so it can be difficult to discover hidden gems. How can you truly enjoy your surroundings if you can hardly find a spot to relax? These secluded beaches are the best place to vacation without crowds.
I hate to sound like a travel snob, but it's no secret that large crowds can ruin a travel experience. It's normal to feel let down when you arrive to your highly-anticipated travel destination to discover that it's overrun with people. It doesn't feel as magical when you can barely walk without bumping into others. Thanks to social media, it's hard to get "off the beaten path" these days. It's wonderful that so many people have access to more travel information, but at the same time, this means that finding those special places will take a bit more effort. Check out these beaches to escape the crowds this summer.