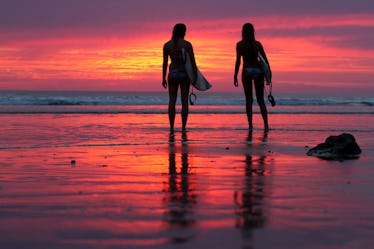 The Most Relaxing Surfing Retreats Will Have You Catching Waves & Feels For Summer
Tis' the sea-son to try new things. It's officially summer, which means it's time to hit the beach. Instead of chillin' in the sand, why not learn how to surf? Surfing is such a fun way to paddle out into the ocean and get active. You'll get a full body workout, and will gain an even deeper respect for nature. Learning to surf requires effort and dedication, but it all pays off in the end. Eventually, you'll be riding waves in pure bliss. If you really want to learn in the perfect atmosphere, these are the best surfing retreats to sign up for this summer.
When is the last time you tried something for the first time? Learning a new skill can build your confidence and help you gain new excitement in your life. You may start from the bottom, but you quickly realize that it's all about the journey. Summer is the perfect time to invest in new adventures. Consider learning how to surf if you want to incorporate something different into your life. If you sign up for a surfing retreat, you'll have the opportunity to learn alongside others who have the same goal in mind. You can test your limits by exploring a new country and learning how to surf all at once.