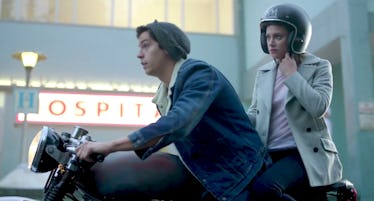 6 Best Bughead 'Riverdale' Moments From The Season 2 Premiere That Will Warm Your Heart
CW
After the first season of Riverdale exploded onto the scene, it became immediately clear that one couple was truly capturing the hearts of everyone in the fanbase. Sorry Varchie lovers, but the Bughead stans are running this ship. The CW series surprised most people familiar with the original Archie comics by leading Betty Cooper and Jughead Jones into a romantic relationship — which never existed in the comics. But the unexpected coupling just worked, and Betty and Jughead's relationship struck a cord with Riverdale viewers everywhere.
Although things between Betty and Jughead seemed a bit shaky at the very end of Season 1 — they almost have sex for the first time, but are interrupted by the Southside Serpents inducting Jughead into their gang — shippers can rest assured that the couple is still going strong after that Season 2 premiere. Though Wednesday night's new episode mostly focused on Archie and his dad, who was shot by a masked gunman, it was also chocked full with a bunch of great Bughead moments that fans of the couple have been waiting for months to see again. Maybe the chemistry between Betty and Jughead is so strong because there are all those rumors that actors Lili Reinhart and Cole Sprouse are actually dating IRL too?
Well, whether those are true or not, Riverdale came back strong with its first episode of Season 2, and delivered some truly incredible Betty and Jughead moments. Let's take a look at all of them below.
1. Cap And Gown Cuteness
Okay, this may have just been a fantasy scene all in Fred Andrews' comatose mind, but that doesn't take anything away from how heartwarming it was to see Archie, Veronica, Betty, and Jughead all dressed up in their caps and gowns getting ready to graduate high school as best friends. Also, is this the first time we've seen Jughead without his signature crown beanie!?!?
2. It's Love, Officially
Jughead wasn't even present for one of the most touching Bughead moments of the new episode, which came when Betty's face lit up while talking about her boyfriend to Kevin Keller at the hospital. She tells Kevin about Jughead saying "I love you," and her saying it back to him... and the huge smile on her face is just so contagious!
3. Biker Beaus
Season 2 not only finds Jughead with a new gang, but also a fitting new form of transportation. Although Betty seems a bit hesitant to ride around with Jughead on his motorbike, she gives in and holds on tight as the two ride off from the hospital in the season premiere. Maybe when Betty goes into her dark place she'll be more enthusiastic about that motorcycle.
4. Detective Duo
The thing that brought Betty and Jughead together in the first place was their shared talent for investigation, which is why it was so nice to see them back in their natural state trying to get to the bottom of why the masked gunman targeted Pop's Diner. The couple that solves mysterious murders together, stays together.
5. Burger Break
Although Betty and Jughead's relationship is completely different from the comic books, Jughead's love for food is still the same as ever. The Season 2 premiere gave fans a bit of a fun moment when Jughead jumped at the offer of a burger from Pop and joked with Betty about how he just gets hungrier the darker things seem.
6. That Kiss!
To top it all off, the new episode ends with Betty and Jughead kissing in the rain (classic romance move), and Betty assuring Jughead that even though he's getting more mixed up with the Southside Serpents, she will still be there for him.