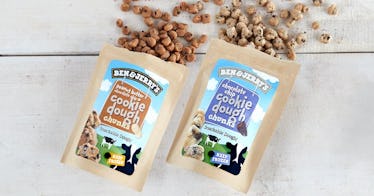 These Cookie Dough Bites From Ben & Jerry's Will Be Your New Favorite Dessert
BEN & JERRY'S
Thanks to Ben & Jerry's, no one bats an eye anymore if you pick through a pint of Half Baked in order to eat all the frozen gobs of raw cookie dough. Well, now you don't have to pretend that the doughy balls of deliciousness aren't the real reason you're pillaging through the carton. Thanks to the the ice cream gods, Ben & Jerry's Cookie Dough Chunks are available in the most delicious flavors, and it's all the cookie goodness without any of the other stuff getting in the way. You know, like ice cream.
As a self-proclaimed cookie dough devotee, I was more than a little excited when I saw that the ice cream retailer was bottling up their legendary cookie dough formula into the most crave-worthy bites imaginable, no spoon needed. According to their website, the frozen cookie dough chunks are available in chocolate chip or peanut butter chocolate chip flavors. There are few things in life that are more satisfying than the simple yet totally potent mixture of buttery cookie dough studded with chocolate chips. Honestly, I am so relieved that I don't have to pretend I want to bake cookies anymore to get my fix.
I was ready to head to the grocery store when I saw that there's one big caveat putting a damper on my cookie dough bonanza. Unfortunately, the cookie dough chunks are currently only being tested in Vermont, aka the birthplace of Ben & Jerry's, which means that Vermont dwellers have a pretty big responsibility on their shoulders to determine if fellow cookie-dough connoisseurs will ever get to see these treats in our local grocery stores. C'mon Vermonters, I need some peanut butter chocolate chip Cookie Dough Chunks in my life.
Instagram blogger Junk Banter explained the situation in an Aug. 21 post, after test-driving the goodies. "Ben & Jerry's is testing these Cookie Dough Chunks - the same ones they put in their ice cream - at Vermont Scoop Shops," they wrote via the social media platform. "They're safe to consume raw and if you Vermonsters gobble it up, it may be available online and in other distribution channels later this year. Big responsibility, Vermont. Please support 'Oops! All Chunks' so the rest of the country can enjoy too."
On Ben & Jerry's website, they echoed the same sentiments. "If we receive enough interest we may bring it to a shop near you," they wrote. While they don't exactly specify what that means, I'm thinking that tweeting them, starting a Change.org petition, and buying out their entire stock in Vermont is a good place to start. TBH, there are enough raw cookie devotees out there who want to cut straight to the chase that I'm not really too worried about these delectable bites not getting a wide release. Of course, you won't know for sure until the company makes the final decision.
Junk Banter said it best:
There's no denying that deep down, we're all disgusting monsters. We love @benandjerrys because of how much crap they cram into our ice cream, and we also love eating raw cookie dough by the spoonful.
I definitely identify with being a "disgusting monster" when it comes to chowing down on cookie dough, and I am proud AF of that. Plus, according to a Ben & Jerry's press release, you don't have to worry about your mom chastising you for consuming raw cookie dough. The mixture is made with "pasteurized eggs and heat-treated flour," and it's safe to eat raw.
"Fans have been asking for 'just the chunks' for a while now," Innovation Manager Jody Eley said about their decision in a press release. "We're bringing cookie dough to our Vermont shops to start. If it does well, it may be available online and in other distribution channels later this year."
I'm so on board for how Ben & Jerry's is continuing to make it socially acceptable to eat large amounts of raw cookie dough, no spoon or frozen confection needed. In the meantime, I'll take another carton of Half Baked, please and thank you.
Editor's Note: This post has been updated with additional information from Ben & Jerry's about the Cookie Dough Chunks.