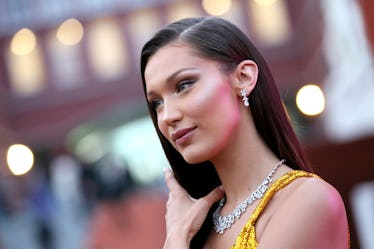 Bella Hadid Responded To Assumptions That Drake's New Song Is About Her
Elisabetta Villa/Getty Images Entertainment/Getty Images
It's been a tough 24 hours for fans still struggling to accept that Drake and Bella Hadid might have been a thing at one point. When Drake dropped his highly anticipated Scorpion album on June 29, it's safe to say that everyone was shook by a handful of lyrics in "Finesse," which seemed to hint at a romance with the model. TBH, I'm still struggling to ship them, so Bella Hadid's response to "Finesse" by Drake being about her comes at the perfect time.
Just hours after the track dropped on Friday, Bella Hadid swiftly took to Twitter to address the rumors, and she shut them down hard. "Not me!!! that's disrespectful," she wrote. "WHY CANT PPL BE FRIENDS W/o all the insinuation?" Her selection of emojis — laughing and pondering faces followed by annoyed and angry faces — say it all.
Abella fans, including myself, breathed a collective sigh of relief. While Hadid has maintained that she's merely friends with the "Nice For What" rapper, can she blame me for having a moment of doubt? After all, three big hints in "Finesse" seemed to all but confirm that the single was all about the youngest Hadid sister. To recap, here's how it all went down.
The clues started out slow, as Drake appeared to reference a fashion week model with beautiful eyes.
I want my baby to have your eyes/I'm going against my own advice/Should I do New York? I can't decide/Fashion week is more your thing than mine/I can't even lie, I'd rather stay inside/I can't do suit and tie/Can't be in a room with you and stand on different sides/One thing at a time/I have to learn to hide/One thing at a time/Emotions running high/I wish you felt alright
Suspicious, but a beautiful model with attention-grabbing peepers could be any number of possibilities.
The turning point for me was when he referenced the woman's sister as "too hot to handle." Surely he was referring to Gigi Hadid, who is Bella's older sister and also a model.
You and your sister/Too hot to handle/Things would get canceled/I would make time for you/Commitment/Going the distance/I'm new to all of this
Well, now that Bella Hadid has officially shot down the speculation, I'm seriously stumped. Who could he be talking about?
Looking at a timeline of the women Drake has been linked with — most famously Rihanna and Jennifer Lopez — no one seems to fit the bill, which makes the situation even more confusing. Just last October, Drake reportedly footed the bill for Bella Hadid's lavish birthday party, and there were rumors that the two were dating. However, mom Yolanda Hadid reiterated that the two are "just friends" during an appearance on Watch What Happens Live.
My conclusion? Bella Hadid may not have had an IRL romance with Drake, but he sure wants people to think they did. If anything, "Finesse" seems to confirm that he might have feelings for her and he'd like their friendship to be something more.
You stay on my mind/All the time, all the time (yeah)
In the lyrics, Drake also appears to reference another man, who I'd guess is on-and-off beau The Weeknd.
It takes some finesse/I seen you finesse/He can't know finesse/You stay on my mind
Shortly after Drake and Bella Hadid were rumored to be an item in October 2017, The Weeknd and Selena Gomez broke up. Just weeks later, the "I Feel It Coming" singer was photographed leaving Bella's apartment.
Could "Finesse" be a song about unrequited love? My guess is maybe. Unfortunately for Drake, that doesn't seem to be in "God's Plan," considering Bella Hadid is putting him firmly in the friend zone with her Tweet. After all, it seems like she's been too busy rekindling her love connection with The Weeknd. Sorry, Drake.