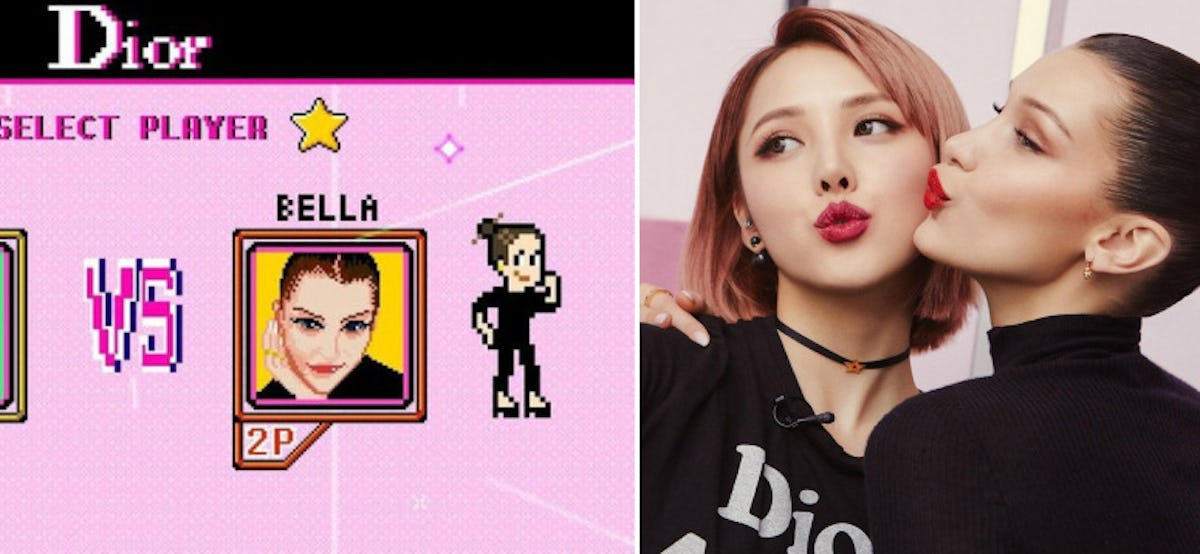 Bella Hadid Competed In A Makeup Glow Challenge & It's Such A Super Mario Throwback
Dior
When a luxe makeup brand turns a Hadid sister into a video game, you know it's going to be major. Bella Hadid & PONY's Dior Makeup Challenge sees the 21 year-old model duke it out against beauty influencer Pony to determine who has the most glow. It's absolutely adorable and is also serving up seriously nostalgic Super Mario vibes.
Hadid kicked off 2018 with a fresh campaign for the Dior Lip Glow Color Reviver Balm ($34, dior.com). Although I loved the original release and totally want to be apart of the #DiorGlowSquad, I'm obsessed with the "Glow Challenge" that Hadid and famous beauty guru PONY completed in the brand's latest campaign.
I won't lie, the first time I watched it, I totally wasn't taking notes on achieving the perfect "Dior Glow," but that's what I love about the pseudo video game. I like feeling like I'm not being marketed a product, and double props if the campaign is so good I feel like I need it in my life.
In this case, the lip glow video has me so nostalgic for summers spent playing video games after a long day of swimming and taking sunrise walks in my Nana's neighborhood, before the Southern heat rolled in. My cousins never wanted me on their video game teams though, because I was horrible. But a video makeup challenge? I would've totally aced it.
In the first round of the "Glow Challenge," the pair utilized four products to create a natural day look. To create the first look, they used foundation, concealer, eyeshadow, and mascara. PONY blew my mind when she applied the lip glow balm on both her lips and cheeks. Seriously, how major? Anything I can use on my lips and cheeks to get glowing is so clutch.
For the second round, the pair was tasked with creating the ultimate night-out look with foundation, a smoky eye, and a lip color. Ultimately the duo called it a draw, but I think the lip balms are the real winner. Already a staple backstage during fashion month, the revitalizing and moisturizing balm imbues lips and cheeks with just a hint of fresh, dewy color.
The shade range has expanded with six new shades of pink, and effects of Glow, Holographic, and Matte.
Hadid has been the face of Dior for almost a year. Her natural look and playful personality is in line with the brand's sophisticated but spunky image. While her resume is stacked, when she was on the cover of InStyle magazine, she made it clear that she still gets excited over each and every opportunity she gets.
The first time I heard that I booked Dior, I was hysterically crying to my agent," says the 20-year-old. " 'You mean Dior? Are you lying? Do you mean a different brand from Europe?' "
She's not alone in this tutelage, because youthful Brit-beauty Cara Delevingne fronts Dior's new Capture Youth line. The range features the powerhouse Dior Capture Youth Age-Delay Advanced Crème ($95; sephora.com), as well as five serums that focus on a specific benefit, such as the Dior Glow Booster ($95; sephora.com). Editor's note: I use the Glow Booster nightly and wake up to no pores.
In Delevingne's promotional videos, she discusses her motto and ideas of womanhood.
All in all, Dior is bolstering its millennial outreach with their inventive campaigns and super-famous stars.
And since the Dior Lip Glow balms clock in at a reasonable $34 for a multi-use lip and cheek product, the new guard is definitely rolling through. Their cheeky video game advertising proves the fashion and beauty industry is definitely shaking and livening up. Finally!