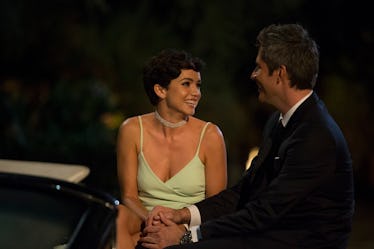 Bekah M. Claps Back At People Calling Her "Immature" For Posting 'Bachelor' Arie's DMs
ABC/Paul Hebert
Bekah Martinez is the gift that keeps on giving, even if Arie's season of The Bachelor about to come to a close. The spunky Season 22 fan fave, who was eliminated in the show's seventh episode, has been quite active on social media of late and her commentary is often LOL-inducing gold. A scroll through her Twitter feed reveals Bekah M's tweets about Arie after The Bachelor are worth a read — the outspoken contestant does not hold back.
Bekah was a total standout during her time on The Bachelor. Despite the hullabaloo surrounding her age — she was 22, now she's 23 — the LA nanny managed to keep her cool, and charm Bachelor Nation (and Arie) with her humor, style, lively attitude. She continued to endear us with her recent tweets — chiming in on the show's events, poking fun at herself, and even offering up some behind-the-scenes tidbits. During Monday's bombshell finale, where Arie proposed to Becca and then broke up with her for Lauren after the fact, Bekah made it abundantly clear that she's not Arie's biggest fan right now through a series of tweets. She proceeded to call him a "tool" in one, and then went on to share a nugget of intel — Arie slid into her DMs while the show was airing.
Now, Bekah has a message for all the people who labeled her "immature" for expressing her feelings and calling him out. "People are really going to call me "immature" for calling Arie out yet he's the man who dm'd MULTIPLE exes and blindsided/broke up with his fiancé in front of a full camera crew...?????," she wrote Tuesday.
Bekah also took the time to defend Lauren, who she feels should not take on any blame for how the Arie decision was handled. "One more thing: lauren does not deserve ANY hate for this situation, or if she takes him back. she's an innocent victim to his manipulation in all of this as well," Bekah added.
Bekah's choice of words, or tweets, were met with criticism from some viewers, but it sounds like she feels it's her prerogative to speak up considering Arie's actions. And perhaps that's also because she has rave reviews regarding Becca K., who got burned by the whole messy and unfortunate situation.
"She's amazing. She's so genuine," Bekah said of her former mansion-mate and friend on The Ringer's Bachelor Party podcast. "She is a wonderful person. She's got such a pure heart. The thing I love about her is she's not stupid. She didn't go on the show being like, 'I'm gonna fall in love and find my husband.' But she went with truly an open heart and mind. Then she was like, 'well, maybe I will.' I just think that she's just so honest and so transparent."
Bekah's not only spilling her thoughts via social media. She spoke to Entertainment Tonight last week, revealing that she doesn't think Arie is actually in a position to settle down.
"No, [I don't think he's ready]. I think I'm more ready for marriage than Arie is, quite honestly," Bekah confessed. "I don't think Arie knows what he wants, and I don't think he's serious about being with one person for the rest of his life."
So, what's next for Bekah now that The Bachelor is closing its dramatic Season 22 chapter? If Chris Harrison's remarks on "The Women Tell All" have anything to do with it, she'll be booking a ticket to Mexico this summer. "I think I would love Paradise," Bekah admitted, although she hasn't been confirmed for the next installment of Bachelor in Paradise. "I love the sun and it's just the perfect excuse to get a great tan."
Hopefully Bachelor Nation and all its #TeamBekah members will be satisfied by a casting announcement soon enough.