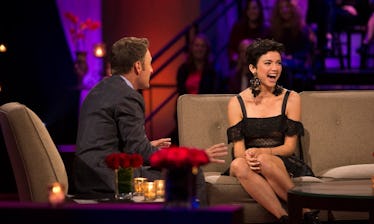 Bekah M.'s Coachella Instagram Might Have Thrown Some Shade At Her Bachelor Family
ABC
Coachella season is officially upon us, and anyone who's anyone is attending. From music artists to social media influencers, celebrities from all walks of life can be spotted walking those festival grounds, and that includes past favorites of Bachelor Nation. Well, it appears that one favorite contestant is missing from the festival, and Bekah M.'s Coachella Instagram might be throwing some shade at her fellow contestants.
On April 15, the last day of Coachella's first weekend, everyone's favorite 22-year old posted an Instagram of two girls holding hands at Coachella with their backs turned to the camera. A typical Coachella picture right? Well, of course Bekah M. had to put her own spin on it by photoshopping a picture of her face onto one of the girls. The picture itself is hilarious, but it's the caption that has me raising my eyebrows.
She wrote,
wow. #coachella has been such a life-changing experience. yesterday i paid 17 dollars for a water bottle but it was totally worth it to see all my favorite bands from 300 yards away #NoFilter#FestivalGirl
It's questionable whether Bekah M. is throwing shade at the festival itself, or the people attending. Either way, tons of former Bachelor contestants are attending the festival's first weekend, and so this Instagram is just a tad awkward to say the least.
Um Bekah, I'm pretty sure after your run on The Bachelor, you wouldn't have to pay for one thing at that festival.
Former Bachelor contestants including Raven Gates, Dean Unglert, Danielle Lombard, Bordyukov, Alexis Waters, Jasmine Goode, and more are currently attending weekend one, and from the looks of it, they're having a blast. I'm happy for them. After being broken up with on national television, they definitely deserve a weekend trip to Coachella.
As a Los Angeles native, perhaps Bekah M. just isn't into Coachella anymore? She's already talked about on Twitter how she's not really into the camping scene, so maybe she dodged a bullet on this one.
Whether she's throwing shade or not, it's no secret that Bekah M is known for not holding herself back from saying how she feels. She was a contestant on Arie Luyendyk's season of The Bachelor, and quickly became a fan favorite because of her cool style, down to earth personality, and the fact that she was only 22-years old. Her and Arie's age difference (14 years) eventually is what drove him to send her home, but it was the season finale that Bekah finally spoke out about how she feels about Arie now.
Here's a quick recap about Arie's season finale, and I'll make it quick as possible despite all the drama I could spill. Basically, Arie proposed to Becca Kufrin in the end, and everyone was super excited. However, Arie then changed his mind and broke up with Becca on live television and went back to the runner up Lauren Burnham to beg her to take him back. She did. Of course. It was without a doubt one of the, and I'm using my Chris Harrison voice when I say this, most dramatic seasons in Bachelor history.
So during the "After The Final Rose" episode, Bekah M. ripped into Arie with some comments that had me spilling my wine all over the floor.
She said,
He talked about how he hasn't been in love with women who are strong and independent, and then all of the sudden, he's on the show [and] he's like, 'I want a strong, independent woman who I'm an equal with.' I don't think there's anything wrong with being like, 'Yeah, I want to be the dominant partner in the relationship.' Maybe that's not the popular thing to say, but I wish he would just be honest about that, because I don't really think that he wanted to be with a woman like me or with a woman like Seinne, women like us, who aren't going to let him get away with whatever he wants to get away.
Even with the drama, Arie and Lauren are happily engaged and are looking forward to planning their wedding sometime soon, and it might even correspond with The Bachelor schedule.
Bekah M., don't you ever change.