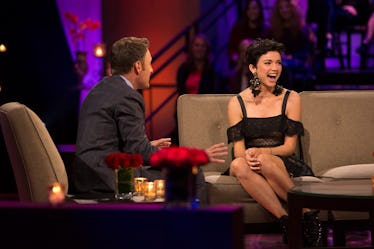 Bekah M. Says She's "More Ready For Marriage" Than 'Bachelor' Arie, So Age Doesn't Matter
While watching Season 22 of The Bachelor, you probably either loved or hated 22-year-old contestant Bekah M. The edit she received on the show might have made her a polarizing figure, but Bekah has clapped back at fans still doubting if she was ever ready for marriage. With viewers' speculation about Arie's post-show relationship growing, Bekah subtly stirred up the online debate about whether age is truly just a number. Spilling in a recent interview, Bekah M. thinks she was "more ready for marriage" than Arie is.
As evident on the "Women Tell All" special, Bekah is still a little bitter about Tia playing a part in her elimination and telling Arie that she didn't think Bekah was ready for marriage. Arie later admitted on the "Tell All" that he let reservations about Bekah's young age get to his head. The now-23-year-old also said that she had never experienced such judgment about her age before The Bachelor, and given that Chris Harrison basically confirmed her ticket to Paradise, I don't think Bekah is necessarily complaing about her heightened spotlight. However, she's still determined to get a word in about ageism on the show.
Appearing in a Facebook Live interview with Entertainment Tonight, Bekah sent Arie a taste of his own medicine. While the Bachelor has claimed throughout the season that he desires marriage, Bekah thinks differently, saying that Arie isn't prepared for the commitment:
No, [I don't think he's ready]. I think I'm more ready for marriage than Arie is, quite honestly. I don't think Arie knows what he wants, and I don't think he's serious about being with one person for the rest of his life. You'll find out [why on] on the rest of the season.
Bekah isn't the only contestant hinting at a major twist coming our way. At the "Women Tell All," Caroline confronted Arie, tearfully telling him, "I know what you did." Some of the other women nodded, suggesting that a hot secret about the season's result is flying around the group.
Although she couldn't clarify the questionable actions Arie may have committed on the show, Bekah did share more of her own theories on why Arie isn't ready for marriage.
I think Arie has a conflict between how he wants to present himself, and what kind of woman he thinks he should be with, and what kind of woman he knows he should be with, and then what he really wants. I mean, you don't just change dating patterns you had for years and years at the drop of a hat because you're on a TV show - that just doesn't change overnight.
Bekah makes an excellent point. While Arie has said that the last time he was in love was with Emily Maynard on her Bachelorette season, his most recent ex-girlfriend dropped shade shortly before he was announced as the new lead. She tweeted that Arie would be unable to pick just one woman, adding fuel to rumors that something completely unexpected will happen in the finale.
After her time on the show, Bekah also picked up on a telling pattern in the eliminated women's personalities.
He talked about how he hasn't been in love with women who are strong and independent... and then all of the sudden, he's on the show [and] he's like, 'I want a strong, independent woman who I'm an equal with.' I don't think there's anything wrong with being like, 'Yeah, I want to be the dominant partner in the relationship.' Maybe that's not the popular thing to say, but I wish he would just be honest about that, because I don't really think that he wanted to be with a woman like me or with a woman like Seinne, women like us... who aren't going to let him get away with whatever he wants to get away.
Interesting. Bekah has definitely given this some thought into why Arie may falter when it comes to the proposal stage of his season. Just like Caroline, she isn't letting him get away with these double-sided comments, and I may have a new appreciation for Bekah entirely. We'll have to wait and see if her observations on Arie play out correctly in next week's finale episode.
The Bachelor returns on Monday, March 5 at 8 p.m. ET on ABC.