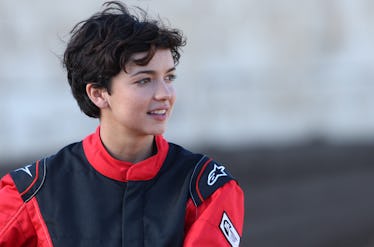 Bekah M. Clapped Back At Haters On Twitter After Revealing Her Age On 'The Bachelor'
Arie had a rude awakening on the Week 4 episode of The Bachelor when the pixie-haired Bekah M. used their one-on-one date to reveal her true age. Social media sleuths discovered Bekah to be 22 years old when she was the only contestant whose bio didn't include her age, but 36-year-old Arie was out of the loop until this point of the show. Depending on your feelings toward Bekah, you either cheered or cringed during their discussion, but the real MVP was Bekah breaking down the controversy on Twitter. Bekah from The Bachelor tweets like a pro, but her witty clapbacks this week introduced a new level of sass.
The 14-year age difference between Arie and Bekah is enough to turn a lot of people off, including the other women in the house, but Bekah was clearly prepared for haters to hate. Earlier this week, she hinted at the upcoming age reveal with a Twilight reference, joking that she was one of the ageless vampires who chose to repeat high school rather than go be cool adults.
Side note: I'm the same age as Bekah, and for most 22-year-olds I know, Twilight is that middle school obsession they all want to forget.
Seeing as Bekah is one of the youngest contestants in franchise history, her fellow competitors haven't exactly viewed her as the most compatible for Arie. When Arie asked her if she was ready for marriage, Bekah rattled off all the people in her family who married in their early 20s, coming off as a little panicky.
However, online, she was cool as a cucumber once again, joking about being a total boss when it comes to doing her laundry.
OK, girl, I'll give you this one. Having to put away laundry is the devil's work.
She also poked fun at how her age was undoubtedly the highlight of the episode. When someone suggested a drinking game for whenever her age was mentioned on-screen, she had the perfect comeback:
Although Bekah and Arie's age difference is the most notable of the season, it's not like the other women are all matronly 32-year-olds clucking their tongues over those darn millennials. As of this week, all of the women in their 30s, aka those closest in age to Arie, have been eliminated, and a decent number of remaining women are a full decade younger than Arie. Maquel, who (temporarily?) left the show after her grandfather died, was only 23 years old, marking 13 years between her and Arie. Currently, the oldest contestants are Krystal and Chelsea, both 29 at the time of filming. Pot, meet kettle.
Bekah picked up on the irony of having so many 26-year-olds competing for Arie's love, sarcastically tweeting about their difference in maturity from her.
Bekah's supporters were quick to applaud her, coming out of the woodwork to share their own experiences of feeling ready for marriage at a young age.
She also received support from her fellow Bachelor contestant Jacqueline, who has said approximately 10 words so far on the show. Not surprisingly, the other Bachelor women from the season seem to have stayed silent on social media about the age conversation.
However, this didn't stop franchise alums from joking about the age issue. Some things never change, and we can rely on Evan Bass of Carly-and-Evan fame for that good old snark.
I still have trouble relating to Bekah's onscreen persona, but her tweets show more of her fun, unfiltered side that I'm hoping will sneak through on The Bachelor soon. We have to wait and see if age does actually prevent a relationship between Arie and Bekah, but it's safe to say that, with this sense of humor, she can manage anything that may happen next.