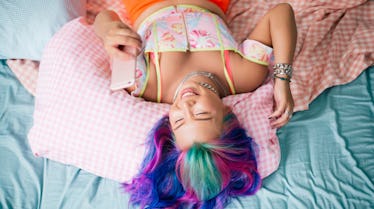 Here's What No One Tells You About Your First Time Swiping On Dating Apps
Dating is hard. People send confusing signals sometimes, and it's difficult to find someone who's on the same page as you are — someone who wants the same things you want. You say these things and more when your parents ask you why you're "still" single, but they don't seem to understand. And honestly? Neither do you! You're great and you know it! But if you haven't had much luck in the dating game for whatever reason, and you want to meet someone, consider hopping into the dating app game. If it's your first time using dating apps, don't freak out! It's totally normal to be a little bit nervous. But there's a first time for everything, and once you get over the initial jump in, it's smooth sailing (or swiping) from there.
Here are a few things I wish I knew before I started swiping on dating apps (a long, long time ago.) I was a little skeptical at first. It took a lot of convincing from my friends in college to actually get me to download them, but I've learned so much. It's a process, but it's a fun way to get to know people, and you might very well find "the one" along the way. Keep these things in mind before you hit "Download," and happy matching!