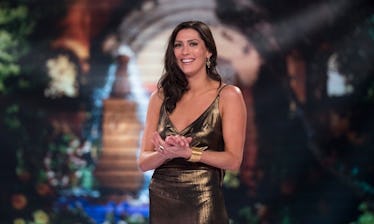 Becca K. Applied Twice To Get On 'The Bachelor' & This Interview Is Hilarious
ABC
Is anyone else as pumped as I am about this season premiere of The Bachelorette? I doubt it, but you can believe what you want. Since she got her heart smashed on national television, I've been eagerly awaiting the chance to watch Becca's own Bachelorette journey commence. However, the road to love isn't an easy one to start, and when Becca Kufrin told Stassi Schroeder how she got on The Bachelor, I'd dare to say that Arie wasn't worth all the effort.
On May 27, Kufrin appeared on the Vanderpump Rules star's podcast "Straight Up With Stassi" to talk about the upcoming season of The Bachelorette, and dished about how she got involved with the iconic franchise. According to Kufrin, the fan-favorite actually applied twice on the show before snagging an opportunity to vie for Arie Luyendyk Jr.'s heart thanks to a few close pals.
She said,
It actually started years ago. Two of my coworkers had applied for me and I got this random call one day from this guy named Scott in casting and I thought it was a joke at first. And I went to work and my two coworkers, I could hear them giggling next to me. They were like, 'Oh, haha, that was us.
Can you say #friendshipgoals? Her friends are placing her on The Bachelor and I can't even get a text back to hang out. If any of my friends are reading this right now, feel free to send my name along to the producers of Bachelor Nation.
It's safe to say that Becca Kufrin deserves all the love in the world. For those who are just now hopping on the Bachelor franchise chain, I'd like to start off by saying welcome. Secondly, I'll give you a quick rundown of Arie Luyendyk Jr.'s stint as the Bachelor, which was, by far, the most dramatic season in Bachelor history. Basically, Arie proposed to Becca in the season finale, and she accepted. Then, after filming ended, he met with Kufrin and broke off their engagement on live television because he claimed that he was still in love with runner up Lauren Burnham. Things were messy at first to say the least, but it looks like everyone turned up happy in the end. Becca is the official new Bachelorette and apparently Arie and Burnham plan to be married in January in Hawaii.
As the new Bachelorette, you would think it would be hard to watch your ex-girlfriend date 20+ men on television. However, the former race car driver told Entertainment Tonight that he and his new fiancé could apparently "watch Becca's Bachelorette season comfortably," so that's nice to hear.
So who will be the lucky man to steal Becca's newly healed heart? A source told Entertainment Tonight that even though the new Bachelorette may have been guarded initially after the breakup, she's ready for love and definitely has a type.
The source said,
She was humiliated over what Arie did. She put her heart out there and gave everything. He didn't take it seriously. For Becca, the relationship was real. We saw her ex, Ross [Jirgl] on the show — that's more her physical type. She likes handsome, beefy guys, but ultimately she just wants someone who's real. She's not one of those people who went on the show for Instagram followers. She's got a killer job, she's a good person and she really wants to find somebody.
Oh Becca, I really want you to find someone too. If not, the first round of drinks are on me, and we can make it a double.
Becca's journey to love starts Monday, May 28, at 8 p.m ET. Make sure to get comfortable on that couch, and have that wine ready.