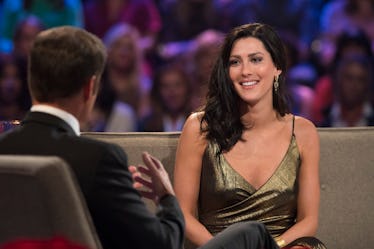 Becca's Reaction To Arie's Reason For Breaking Up With Her On Live TV Is So Awkward
No matter what accomplishments his racing career or real estate ventures may bring him in the future, Arie Luyendyk Jr. will forever be known as the Bachelor who painfully broke up with his blindsided fiancée Becca Kufrin on camera. Becca scored the Bachelorette gig as a result of handling her public heartbreak well, but Arie then claimed that he invited cameras to film their breakup so Becca could become the franchise's next star. Our new leading lady finally responded to Arie's weird statement, and Becca's reaction to Arie's reason for breaking up with her is just as awkward as watching that breakup was.
Speaking to Entertainment Tonight from the set of her first official Bachelorette photo shoot, Becca was essentially the equivalent of every girl who knows she's right about something but won't gloat about it. In response to Arie's explanation, Becca totally seemed to hint that her ex didn't know what he was talking about, but she dealt with his claim neutrally:
Well, that's news to me! I don't think he ever expected me to be [The Bachelorette], or how everything played out, so that's his side. I don't know.
Girl, you have 20-plus men falling over their feet to impress you now. Time to rebuke Arie's "I love that"s with "I don't know" and move on.
Even more awkwardly, Arie previously told ET that he and new fiancée Lauren Burnham "could comfortably watch" Becca's Bachelorette season. Again, Becca didn't seem to mind Arie popping up in conversation when asked about the comment. Let's just say that I would feel very differently if I was in her position.
I mean, I figured [Arie would watch The Bachelorette]. Actually we had conversations when we were still together, like, 'Who do you think it could be, as the next Bachelorette?' So I figured he would watch the show.
Luckily, the 27-year-old Minnesota publicist is a week into filming Season 14 of The Bachelorette, so the days of being asked about Arie's interviews will soon be over for her. When filming kicked off on March 15, franchise creator and producer Mike Fleiss shared a photo of Becca with himself, Chris Harrison, and ABC executive Robert Mills outside the mansion.
Fleiss has continued sharing photos of Becca at various stages of filming. Although I know he's most likely not the one taking them, I keep picturing him as a total dad telling Becca to smile and asking her how to zoom in on a photo.
While Becca seems to be in a good mental state for filming, a source suggested to ET that Becca is a little guarded after having her heart broken on national TV. I mean, duh. However, the source emphasized that Becca has the ultimate goal of finding true love.
She was humiliated over what Arie did. She put her heart out there and gave everything. He didn't take it seriously. For Becca, the relationship was real ... We saw her ex, Ross [Jirgl] on the show — that's more her physical type. She likes handsome, beefy guys, but ultimately she just wants someone who's real. She's not one of those people who went on the show for Instagram followers. She's got a killer job, she's a good person and she really wants to find somebody.
Based on the five men we were introduced to on After the Final Rose, it looks like Becca is well on her way to making a strong, lasting connection. As long as the guys avoid saying, "I love that" to her, there isn't much that they could do wrong.
Season 14 of The Bachelorette premieres at 8 p.m. ET, Monday, May 28, on ABC.