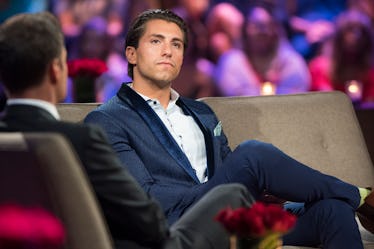 Becca & Jason Had The Most Mature Moment On 'Men Tell All' & I Can't Deal
ABC
As the most recently eliminated man on The Bachelorette, Jason Tartick had the seat of honor at this week's Men Tell All special. I don't know if ABC producers actively assign the man closest to becoming the Bachelor in that last seat on the left, but that special placement heightened any speculation about him being a shoo-in as the franchise's next leading man. After his emotional goodbye with Becca in Thailand, Jason reunited with the Bachelorette again, and Becca and Jason's Men Tell All moment was so mature.
Called to the hot seat by Chris Harrison, Jason had to revisit his heartbreaking elimination in the public eye, and he was obviously torn about reliving those tough feelings. On one hand, he spoke his peace and still managed a graceful exit, but on the other, returning to your normal life and then being thrust back into Bachelor Nation's focal point after such an emotional experience isn't easy. Perhaps even exceeding the sweetness of his scrapbook gift, Jason then showcased his very Jack Pearson-esque nature even more at the Men Tell All with his ever so gracious reaction to watching his Bachelorette highlights. Fans might not have understood the appeal of Jason's slicked hair and Pacino persona at first, but it's safe to say that times have changed in Bachelor Nation.
While taking to Chris, Jason pointed out that he and Becca had greater insight into the other's real lives than any of the other contestants did. She invited his best friends on their first one-on-one date, and they bonded over experiences of loss in their families. Developing such an intimate relationship led to Jason feeling pretty blindsided when Becca eliminated him before the night portion of their fantasy suite date.
When Becca emerged to talk to the men, the blow The Bachelorette took to Jason's confidence shone through. He asked Becca if there was any way he should act differently in future relationships and, mirroring the respect she had for him during their goodbye, Becca said no. Aww, guys, he's ready for love! Bachelor producers, hit this guy up.
Jason also wished her well again, expressing hopes of becoming friends in the future, which is always a hit-or-miss concept with Bachelorette men. Unless your Final Rose pick is close with a certain guy, there's really no reason why you should become texting buddies with some of your other contestants. But if there's any ex that Becca should keep around as moral support, Jason is a prime choice, and if the Bachelor gig does come his way, he'll need Becca's support on hand. The two even hugged it out onstage, totally sealing the hypothetical Bachelor deal. Leads supporting leads FTW!
Fans on Twitter were here for the sweet, mature moment between the exes, and let's just say that the #JasonForBachelor campaign is real.
If Jason's Men Tell All mission was to win over any skeptics, I think it's safe to say he succeeded. ABC usually likes to think its final Bachelor decision under wraps until the end of the summer, but try to hear the nationwide sound of women tossing in last-minute Bachelor applications in hopes of the lead being Jason.
Season 14 of The Bachelorette concludes on Monday, Aug. 6, at 8 p.m. ET on ABC.