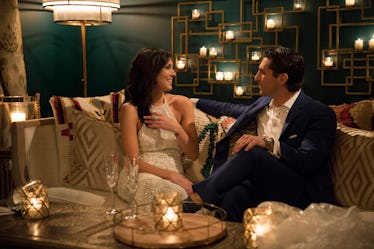 Jason Gave Becca A Parting Gift On 'The Bachelorette' & I Am Completely Shook
ABC/Paul Hebert
Now that's a way to make an exit. After a dramatic date in Thailand that revealed Becca was questioning her future, Jason sadly got sent home. It was the moment he and Bachelor Nation never saw coming (OK, there were a lot of promos teasing her distraught breakdown, though it was unclear who she was distraught about) — Becca just wasn't feeling Jason the way she felt Garrett and Blake, and so she spared him taking their relationship to the next level. But he made a triumphant return bearing gifts! Um, Jason's scrapbook for Becca on The Bachelorette was part of quite the unexpected return.
Becca and Jason connected throughout their Bachelorette journey, but apparently their situation just wasn't as strong as Becca's other final two contestants. During their date in Chiang Mai — which was supposed to end in a fantasy suite should they have chosen to forego their individual rooms — Becca had a sudden change of heart. Following making a comment about the future, Becca started to have immense doubt about Jason. She went forward with their dinner, but unfortunately she couldn't shake her feelings and decided to send him packing before they went down the serious overnight road. Becca told him:
You asked me how has this been for me. It has been very hard. It's been the most difficult thing I've ever done, honestly. For the longest time I could see everything with you and I don't know what my problem is because you have been the most amazing, open person. You said you had your walls up but I never once saw that at all. But I can't put you through an overnight if it's not 100 percent there. I don't know.
This prompted a hard-to-watch back and forth where Jason tried his absolute best to make sure she was making the right decision. She confessed she wasn't confident, although she did see things more with the other men.
"I appreciate your honesty. I sort of understand where you're coming from. It hurts. It's painful. It's not an easy thing to digest but I came into this rooting for your happiness and I'll always root for your happiness. So I hope you find it," he told her before getting in the limo.
Did you think that's the last you would see of Jason? You would be wrong. The sensitive banker from Buffalo swooped in during the final moments of the episode to offer up a last-ditch present. Yes — he reappeared to declare his feelings (again) and give Becca a scrapbook.
"I love her and I'm not ready to let her go. It's been a long time since I've felt this way and it's tough to have it taken away," Jason's voiceover expressed as he walked confidently up to Becca's hotel room. This is after he got eliminated, lest you forget.
Jason apparently needed closure and had a hard time leaving so abruptly with not understanding why. "I want you to know that the love I've had for you is as genuine as I've ever had in my life," he told her fighting back tears.
Becca then explained that she felt like Arie (gasp!) blindsiding him without a real reason, but didn't want him to doubt what a great guy he is. And then... he pulled out a scapbook of sorts, or as he called it, a "meaningful story."
"I can leave this journey knowing that I put it all on the table," Jason said as said as he walked away after leaving her with the thoughtful memento.
Well, at least he found the closure he was looking for? And now Becca will have a tangible keepsake from her whirlwind time with Jason she can cherish forever.